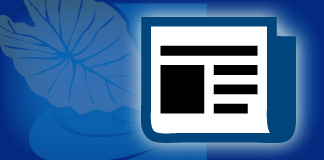 To help you along in your learning, check out the following resources:
Wehewehe.org is a free, online dictionary and go-to resource for Hawaiian language speakers looking for a quick reference or definition to Hawaiian words. The database pulls definitions from a variety of Hawaiian language resources, including the Hawaiian Dictionary and Māmaka Kaiao, and users can look up words in both 'ōlelo Hawai'i and English.
Manomano.io
Manomano.io is a Hawaiian free web application featuring a word of the day, flashcards and online dictionary.
'Ōlelo Online
'Ōlelo Online offers video lessons about Hawaiian grammar and structure in a "pen and blackboard" classroom format, with accompanying worksheets and quizzes. Kaliko Beamer-Trapp teaches each lesson with audio samples and uses examples to make learning 'ōlelo Hawai'i memorable. This online class is designed for beginners and intermediate Hawaiian language speakers. This subscription-based lessons are available for $5.99 per month. www.oleloonline.org
Duolingo
Duolingo is an online and mobile application to learn 'ōlelo Hawai'i by working through interactive lessons. Each lesson consists of multiple-choice questions, fill in the blanks and speaking portions.
Kuāliwi
Kulāiwi is a free online Hawaiian language lesson program form Kamehameha Schools, based on an archived program hosted by 'Ekela Kanī'aupi'o Crozier. Each lesson has a comprehensive video guide on learning Hawaiian language, with transcripts. Kulāiwi has a total of 24 lessons available online, with workbooks available for the first 12 lessons. ksdl.ksbe.edu/hawaiian_resources/kulaiwi
Drops
Drops is a visual language mobile application, available on both iOS and Android, that utilzes almost 2000 Hawaiian words to learn the basics of Hawaiian. Drops offers free 5-minutes daily lessons users to progressively learn their ''ōlelo Hawai'i skills. A premium subscription for unlimited time is available for $9.99 per month.
Kūkulu
Kūkulu is a fun and interactive way to build your 'ōlelo Hawai'i skills through card games. This 92-card deck promotes the use of 'ōlelo Hawai'i among people of all ages, no matter if you're fluent or just starting to learn. Players use the cards in several language-based games, both familiar and new. Kūkulu is available to purchase online and in stores for $10.