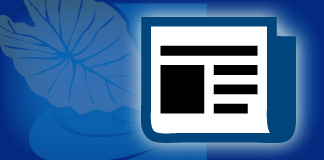 Aloha e nā Hawai'i, mai ka pi'ina a ka lā i Ha'eha'e a hiki loa aku i ka napo'o ana ka lā i ka mole o Lehua, aloha mai kākou.
This month we are celebrating Mahina 'Ōlelo Hawai'i, Hawaiian language month. As you go through the next few pages, please enjoy the articles featuring both young people and kupuna, on topics ranging from sports to politics to the honoring of two of our me'e, Princess Ruth Ke'elikō'lani and Eddie Aikau.
You may be wondering why I am writing this introduction to the Hawaiian language section in English. I understand that many of our readers are at some level of understanding 'Ōlelo Hawai'i, and I wanted to make this one statement clear: jump into it! Whether you only understand one of every five words, can read whole sentences or you can enjoy whole articles-jump into it!