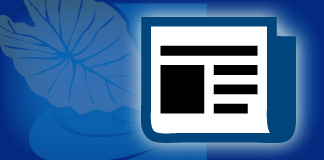 By Dr. Lilikalā Kameʻeleihiwa
When we look at all of the issues Hawaiians are protesting and trying to protect – Mauna Kea, Kahuku, Waimānalo, Māui Water Rights, and all of the other land and water issues that are dear to Hawaiian hearts, we often consider what would happen if we had a government of our own that governed our own lands. Such a government would require a Constitution and even, perhaps, Independence.
The UH Mānoa Kamakakūokalani Center for Hawaiian Studies Brandt Chair is hosting three Mini-Symposiums on Indigenous Constitutions and United Nations (UN) paths to Independence. Gladys Kamakakūokalani ʻAinoa Brandt (1906-2003), for whom our building is named, was a beloved lifelong Hawaiian educator: Principal of the Kamehameha Schools, Chair of the UH Board of Regents, and a wise leader of the Office of Hawaiian Affairs. She bequeathed a legacy at the UH Foundation with the Brandt Chair for Comparative Polynesian Studies, believing that we Hawaiians could learn from our Polynesian cousins.
In January 2020, the Kamakakūokalani Brandt Chair will present ʻOnipaʻa: Polynesian Strategies on Political Self-Determination on Māori Constitutions and Tahitian efforts for Independence through the UN Committee for Decolonization of French Polynesia.
Dr. Moana Jackson, founder of Māori Legal Services, who wrote the first draft of the UN Declaration on the Rights of Indigenous Peoples, and Professor Margaret Mutu, former chair of Māori Studies at Auckland University who has fought many land struggles, will tell us how for six years they asked Māori Iwi across Aotearoa (New Zealand) to declare what they wanted in their own constitution.
Senator Ariʻihau Tūheiava of the Tahitian Independence Party, Tavini Huiraatira no Te Ao Maʻohi – F.L.P., will report on his work with the UN Committee on Decolonization of French Polynesia. Does the process really work?
Hawaiian respondents are UH Hawaiʻinuiākea Dean Jon Osorio, UH Humanities Dean Tëvita O. Kaʻili, Professor Kamana Beamer, Makana Paris and Kamehaʻikū Camvel.
The symposium is presented by current Brandt Chair Professor Lilikalā Kameʻeleihiwa, and Brandt Committee members Professors Maile Andrade, Kamana Beamer, Keahiahi Long, Noelani Puniwai and Tino Ramirez, and co-sponsored by the ʻAha Moananuiākea Pacific Consortium.
Dates and Venues:
Wednesday, January 22: 5 p.m. Pūpū, 5:30–7 p.m. lecture, Hālau O Haumea, Kamakakūokalani Center For Hawaiian Studies, UH Mānoa
Thursday, January 23: 5 p.m. Pūpū, 5:30–7 p.m. Lecture, Kaʻiwakīloumoku, Kamehemaha Schools Kapālama
Friday, January 24: 5 p.m. Pūpū, 5:30–7 p.m. Lecture, Hale Aʻo, Windward Community College
Live Video Streaming available at AVAkonohiki.org! Watch for more Brandt Mini-Symposiums: March 14-28 on Polynesian Stars and Temples; April 5-11 on Polynesian Herbal Medicine; and May 9-16 on Polynesian Visual Arts. For more information email Lilikalā Kameʻeleihiwa at lilikala@hawaii.edu.