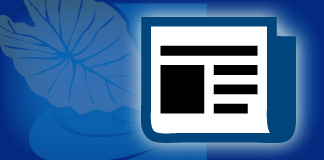 On the cool grassy slopes of up-country Maui is the district of Kula that ranges from Makawao to Ulupalakua. There, Peter Hanohano and his wife have raised their family. Together they have six children (all of whom are now adults), and their heart was to be able to assist their children as they each saved money to buy homes of their own.
"At one point, we had 13 people living under one roof," smiled Peter Hanohano as he recalled that season of their lives. So about 7 years ago, the Hanohanos applied for a home improvement loan through OHA Mālama Loans to help pay for a much needed expansion of their living space.
OHA's Mālama Loans program was created to enhance access for qualified Native Hawaiians to obtain credit, capital, financial services and skills so as to create jobs, wealth, and economic and social well-being for the lāhui. OHA Mālama Loans offers loan products that can be used to start or expand a business, make improvements to a person's home, consolidate debt, fund continuing education, or assist with disaster relief.
"Now, all of our children are standing on their own two feet, but it took time," Peter shared. "We are happy they had a home base to come to when they were starting their careers and saving for their own places."
Now that the children have all moved out of the house, the Hanohanos are planning to use the extra space to create a small learning center. "My wife used to be a preschool teacher," said Hanohano, "so now we want to make our home compliant to create an early childhood education center for those in our Hawaiian Homestead community. We also want to be responsive to the needs of our community, and are committed to help raise the next generation of native scholars and practitioners."
"Peter's story is a testament to how OHA Mālama Loans are designed to work," adds Thomas Atou, Manager of the OHA Mālama Loans Program. "Not only did the loan assist him and his entire ʻohana, but now he is in a position to give back to the community, for which we are extremely grateful and proud."
One of Peter's daughters, Kuʻulei Hanohano, was also a beneficiary of an OHA Mālama Loans' business loan. Today her business, Mo ʻOno, located in Kahului and famous for their Acai Bowls, continues to grow and thrive.