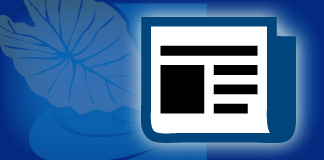 In November, the Office of Hawaiian Affairs published Mana Lāhui Kānaka, a multidimensional study of mana: what it is, how to articulate it, and how to access and cultivate it in order to uplift our lāhui. the book shared mana'o from community contributors, such as eric enos, on using culture and traditional knowledge as a foundation for how we advance in the world today.
I think mana is when you see a place that has been totally destroyed, whether it's through war or man's greed, and you see people coming there to pick up the pieces and bring that place back to life. That to me is mana.
I think the importance of mana in today's world is the ability to share resources that we have with one another so that everybody has enough. And, if we do that, then those resources are around us, the wealth is around us. By sharing wealth, everyone has a part of that wealth, and that kuleana, responsibility. I think that's where mana really lies.
For me a personal experience with mana would be like when you plant a seed, and then you water it, the first time you see that little seed break ground you see life coming up, that's mana. The second way of looking at mana would be when you first see a child born. When it first emerges, all of a sudden you see not how life begins, but how life comes forward – same thing like that seed.
And the third thing of mana is when you might be cold or hungry and somebody lends a hand. That's mana. To me that's how life is, you connect back to life and to love, and to aloha.
And someone said there's two forces in the world, love and greed. I think that's beautiful because if the world is built upon aloha and not greed, then we'd fix all of the Earth's problems.
Tap into your mana by downloading a free copy of Mana Lāhui Kānaka at oha.org/mana.