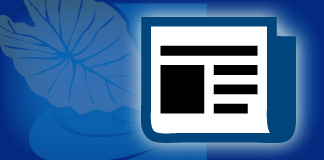 Celebrate Hawaiian culture and aloha along the island chain throughout this month and into October. Below are some highlighted events – full listings are available on the festival webpages for each county.
Aloha across the islands
ALOHA FESTIVALS – O'AHU
All events are free and open to the public. More information and additional event listings are available at www.alohafestivals.com/aloha-events.htm.
Royal Court Investiture & Opening Ceremony
Sept. 1, 4 p.m.
The Ali'i court members will be introduced on the grounds of Helumoa, the original home of Princess Bernice Pauahi Bishop, in a ceremony that includes hula and chant at the Royal Hawaiian Resort, Royal Grove & Royal Hawaiian Center.
66th Annual Waikīkī Ho'olaule'a
Sept. 22, 7 p.m.
Kalākaua Avenue closes for Hawai'i's biggest block party, featuring live Hawaiian music and performances by hālau hula, craft and lei booths and a wide array of island cuisine.
72nd Annual Floral Parade
Sept. 29, 9 a.m.
A procession of male and female paÿu horseback riders, floral floats, Hawaiian music and hālau hula will travel Kalākaua Avenue, ending at Kapi'olani Park.
---
HAWAI'I ISLAND FESTIVAL
Sept. 7-15, all events require a $5 ribbon. More information and additional events can be found at www.hawaiiislandfestival.org.
Waimea 43rd Annual Paniolo Parade
Sept. 15, 10 a.m.
The parade route starts at Waimea Cherry Blossom Park and ends at Waimea Baseball Field.
Waimea Ho'olaule'a
Sept. 15, 11 a.m. to 6 p.m.
After the parade, enjoy the hoÿolauleÿa at Waimea Baseball Field.
---
MAUI (Wailuku)
FESTIVALS OF ALOHA – MAUI NUI STYLE
Sept. 7-Oct. 13
Festival ribbons are $5, visit www.festivalsofaloha.com/2018-schedule-of-events for a full list of events on Maui, Lāna'i and Moloka'i.
Wailuku First Friday Festivals of Aloha Kickoff
Sept. 7, 6 to 9 p.m.
Kick off the Festivals of Aloha on Market Street with Hawaiian music, crafts and food booths.
Lahaina Banyan Tree Ho'olaule'a
Sept. 15-16, 9 a.m. to 5 p.m.
Featuring live entertainment, crafts and artisans.
---
LĀNA'I
True Hawaiian Spirit Celebration Ho'olaule'a
Sept. 29, 2 to 8 p.m.
Featuring live entertainment by Natalie Ai Kamau'u, A Touch of Gold and others. Dole Park, Lāna'i City.
MOLOKA'I
Royal Court Investiture
Oct. 5, 6 p.m.
The Royal Court will be installed at Mitchell Pauole Center at an event that includes a poke contest, an Ulu-Uala-Kalo contest, a talent competition, food booths and vendors.
Parade and Ho'olaule'a
Oct. 6, 9 a.m.
Pa'u riders on horseback and country-style floral floats are the highlight of this parade through Kaunakakai Town, ending with a ho'olaule'a at Mitchell Pauole Center.
---
MAUI (Hāna)
Parade and Hāna Celebration
Oct. 6, 10 a.m. to 5 p.m.
Hāna's Royal Court opens the procession of pa'u riders, floral floats, vintage cars, custom motorcycles, marching bands and the presentation of the 2018 Tiny Malaikini Public Service Award.
Festivals of Aloha Ho'olaule'a
Oct. 13, 6 p.m.
The Festivals of Aloha culminate with a ho'olaule'a in Hāna that features local cuisine and entertainment. Gates open at 5 p.m.
---
KAUA'I
MOKIHANA FESTIVAL
Sept. 23-29
A weeklong celebration of Hawaiian culture, the festival includes a Kaua'i Composers Contest and Competition (Sept. 24) and three days of hula competition. Information on all the events is available at www.maliefoundation.org/kaua-i-mokihana-festival.
Hawaiian Church Service
Sept. 23, 10 a.m.
Special music and a bit of hula will be provided by Kaua'i Mokihana Festival volunteers and supporters in this service open to residents and visitors.
Eō, E Lili'u
Sept. 25, 9 a.m.
Hawaiian immersion school students compete musically with songs in 'ōlelo Hawai'i to honor Queen Lili'uokalani and other Hawaiian cultural topics.