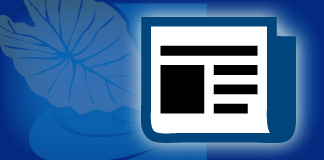 I have several graphic kid memories of 1950s Honolulu/Waikīkī Memories, whose embers still burn deeply, brightly and graphically in my "mind's eye" sixty years later. Every summer, we'd spend two weeks with 'ohana on O'ahu.
The first week was spent in Kalihi Valley with our Tūtū man (step) and Tūtū lady, Lorito & Nancy (Kahuena) Itejorde. Their house was near the top of Kalaepua'a Drive-Moncado Village deep in Kalihi Valley. Lorito was the head gardener at the Philippine Consulate in Nuʻuanu. One summer he took Ben, my younger brother, and I with him to Honolulu Airport to welcome President Magasaysay to Honolulu. It was our first unwitting exposure as spectators to global politics. Usually, he'd rent a cab and we'd do a circle island tour. The ride through the Wilson and Pali tunnels was almost as exhilarating as the log ride at Knott's Berry Farm. O'ahu was still pretty rural half a century ago. Mililani Town was one huge pineapple field and Kāne'ohe reminded us of Waimea with its dairy and horse farms. We were awed by the Ko'olau mountains. Honolulu's tallest buildings were Aloha Tower and the Pineapple at 'Iwilei. Lorito also took us to Sears Ala Moana to ride the escalator, which was a major thrill, then to the zoo and the aquarium.
The second week, we'd spend with our Uncle John and Aunty Helen in Waikīkī. Their house was on Paoakalani Avenue. A skyscraper occupies the half-acre where their three bedroom single walled hale once stood. Uncle John was a construction foreman with Hawaiian Dredging. He had charge of a crew laying pipe along H-1. The State Bird, the construction crane, was just beginning its assault on Waikīkī.During the week, we'd walk to Kūhio Beach unaccompanied. Waikīkī was safe for kids. There was traffic, but drivers were never in a rush. The International Market Place was just an idea. The first movie Ben and I saw was at the old Waikīkī Theater. It was a cowboy movie. This is a memory I've tried to delete, but like a bad habit it just refuses to go away. When the "shoot 'um" part came on the screen, he and I started to scream. We got out of our seats and tried to find a way out of the dark theater, but couldn't. We caused quite a scene. Our very embarrassed māmā chased us, grabbed us by our necks like one grabs a cat, took us out to the lobby and gave us lickings…yes, lickings. We were expecting popcorn, red whips and M&M's, but got slaps instead. CPS did not come to our rescue. No one did.
To balance what happened inside Waikīkī Theater is where the Plumeria Tree comes in…where negative meets positive…where fear morphs into joy. Uncle John had an old Plumeria Tree in his yard and so did many of his neighbors. The Waikīkī I remember became a perfume factory at night. The scent of plumeria filled the air. That's my fondest memory of this wahi pana. The fragrance of pua melia consumed and engulfed our olfactory senses on a balmy quiet Waikīkī evening. It was a fragrance so pleasant and alluring. I've walked Paoakalani Avenue a few times in the last five years at dusk. Uncle John's house is gone and so is the neighborhood. The plumeria trees are gone. The fragrance of plumeria is no more. Sadly, it's been replaced by the eggy stench of auto and bus fumes.
Factoid: Pua melia was brought to Hawai'i in 1860 by German physician and botanist, Wilhelm Hillebrand.