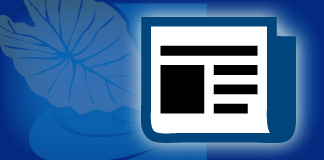 E nā ʻohana Hawaiʻi:
If you are planning a reunion or looking for genealogical information, Ka Wai Ola will print your listing at no charge on a space-available basis. Listings should not exceed 200 words. OHA reserves the right to edit all submissions for length. Send your information by mail, or e-mail
kwo@OHA.org
.
E ola nā mamo a Hāloa!
2017 Reunions
KAHALOA
Samuel Kahaloa married Cecilia Pahoa Akana families includes William Burnett Brown & Tameji Makio. Date October 28, 2017 at Rainbow Pavilion Arizona Memorial Dr. Call Wanda (808) 364-6499 for more info or email beautywithwanda@gmail.com.
2018 Reunions
KIPI-KAHELE
The descendants of the unions of Katherine Kaahea & Samuel Kipi and Katherine Kaahea & William Miliona Kahele will be gathering on Oʻahu at Māʻili Beach Park in Māʻili on Friday, April 27, 2018 – Sunday, April 29, 2018. Camp set-up begins Friday with pot blessing and movie night. Saturday includes Continental Breakfast, lunch and paʻina throughout the day. Saturday's agenda: cultural activities, scavenger hunt, entertainment, BINGO and fellowship. T-shirts & tank tops will be on sale designed by John Kahele, Jr. Order forms available by calling Doreen Sylva (808) 520-4065 / email: doreensylva@yahoo.com. We look forward to seeing you, our ʻohana, in Māʻili, Oʻahu in April 2018. To receive Family Meeting Minutes, email or text us your address. For more information, contact Pauahi Leoiki (808) 445-5352 or email cpleoiki@gmail.com or call or text Kapua Kahele (808) 259-9456. Let's contact all ʻohana to join us in 2018. ʻA hui hou!!!
ROBINS-FRIEDENBURG
Save the date July 14, 2018. Family of  Thomas Robins and Victoria Friedenburg will be gathering in Kaʻu on the Big Island next summer. More information to follow.  Please contact the family emails at robinsfamily808@gmail.com, robins2friedenburg@gmail.com, or call Kim at (808) 929-7130.
'Imi 'Ohana • Family Search
CULLEN
Looking for genealogy records for my great grandmother on my father's side. Mary Cullen 1869-1920 married John Fernandez 1860-1939. Their daughter Madeline Fernandez Colburn. Please call or text Pauahi Colburn at 722-8400. Mahalo nui.
KAIWA
Looking for descendants or related ʻOhana Members of 'BILL KAIWA', aka ʻSOLOMAN ANI. Please contact ROBERTA BOLLIG 320-248-3656 or flh63kb@yahoo.com MAHALO!
KALAUPAPA
Are you looking for an ancestor at Kalaupapa? Ka ʻOhana O Kalaupapa, a nonprofit organization made up of Kalaupapa residents, family members and friends, might be able to help. We have information on more than 7.000 people sent to Kalaupapa. Contact ʻOhana Coordinator Valerie Monson at vmonson@kalaupapa
ohana.org or call 808-573-2746.
KAMAKAU
Looking for descendants or related family members of Ellen P. Kamakau. Born at Kaopipa/Kaupipa, Maui on September 3, 1850. Since, deceased. Please contact
808-366-0847 or lruby@hawaii.edu.
KEAWE
Looking for genealogy records or family members for my grandmother Hannah Keawe born 1875 in North Kohala, HI. Married my grandfather Henry K. Iaea born 1880 in Kaʻu, HI. Married 1901 Hon. Territory of Hawaiʻi birth 1896-1909. Index by name of mother Keawe Hannah, father Henry K. Iaea – child Elizabeth Kalua born 7/19/1898 in North Kohala. Please call Ned Iaea 808-979-1800 or 808-426-1061. Mahalo!
NALAUAI
Looking for genealogical information on Kamala Kali Nalauai (possibly Naluai?) b.abt.1870 (I have no other information at this time on Kamala) who married Lui Kapiʻioho b. abt.1854 or 1864. They had 6 known children together. Lui Kapiʻioho is the brother of Hikaʻalani Kapiʻioho b. Aug.1858,  twins Kou & Kamai Kapiʻioho b. Nov. 8,1861, ALL said children of Maunalei (w) & Kapiʻioho (k) who were married 1847 in Ewa, Oahu. Seeking more information on Kapiʻioho ʻOhana as well. Please contact Mapuana – usinewa@gmail.com