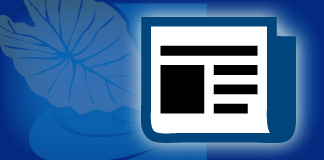 Interviewed by Ka Wai Ola Staff
What strengths do you bring to the OHA's Board?
From Hui Alaloa, Protect Kaho'olawe 'Ohana, The Association of Hawaiian Civic Clubs to the 'Aha 2016, I have a life time of experience advocating for Native Hawaiian issues. These years of background experience will help with the understanding of historical context when it comes to understanding the issues that Native Hawaiians have faced in the last 125 years. My training as a parliamentarian will help bring order and decorum to the boardroom.
What is the first thing you hope to accomplish?
Bringing that order and decorum to the boardroom alone will be a step in the right direction for the Board of Trustees. Beyond that I hope to organize my ideas for the new strategic plan with the other Trustees, so we can holomua OHA in a positive direction.
What is the biggest issue – or biggest area of need – affecting the Native Hawaiian community?
I know most will say housing. While I do not disagree, without a sustainable economic development plan it will not really matter how affordable housing is. Native Hawaiians need to be able to earn a decent wage in an industry or industries that can be sustained for the next three to five generations.
What do you do for fun?
Anything really that has to do with the ocean. As a retired professional surfer and spending my summers on Moloka'i with my tutu, the ocean is always what takes "it" all away. Surfing, diving, fishing, sailing on wa'a or just going for a two-mile swim, it's what rejuvenates me.
How do you connect with the 'āina?
For me connecting with the 'āina is more than just the land. With a given name of Kalei'āina from my tutu this comes with a greater meaning and kuleana for me. Connecting with our Lahui and all that they stand for, believe in, and cherish is what connects me to this 'aina. We may not always agree, but at the core of it, most of us want what we believe is best for the space that we call home.