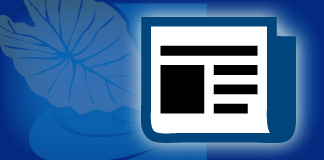 Plastic Clean Up on Kaho'olawe
"Aquaman" heads to Hawai'i
Warner Bros. Pictures' latest feature from the DC Comics series is "Aquaman," starring Native Hawaiian actor Jason Momoa as the half-human, half-Atlantean hero. The movie's director and stars will conclude a four-continent tour in Hawai'i with a special event screening on Dec. 21. Visit www.aquamanmovie.com for more information.
Bilingual Hawaiian-English Bible released
Partners in Development Foundation has released the first full bilingual Bible with parallel text in English and 'ōlelo Hawai'i, including diacritical markings in the modern orthography.
The volume is a continuation of the Hawaiian Bible Project, which started in 2002 to electronically preserve prior printings of the Hawaiian Bible and make them publicly available. The project has since produced the Hawaiian Bible with genealogical pages and Hawaiian biblical maps, followed by a bilingual New Testament with psalms and proverbs, a concordance of Hawaiian equivalents and a 19th century timeline of Hawaiian history.
"The Baibala is a major linguistic, cultural and spiritual resource for the Hawaiian community and Hawaiian language students throughout the world," said Helen Kaupu Kaowili, Baibala Hemolele's Project Director. "There have been global efforts in recent years to preserve indigenous languages like Hawaiian. Just this year, global language-learning platform Duolingo released the Hawaiian language on its smartphone app."
Call Partners in Development Foundation at (808) 595-2752 to pre-order Ka Bibala Hemolele for $40 (suggested retail $69.95).
Exploration of hard truths about museums includes OHA input
A University of Hawai'i workshop and symposium on the de-colonizing of museums covered some emotional territory fraught with struggles for the reclamation of cultural identity. As part of the two-day event, OHA CEO Kamana'opono Crabbe was featured as one of three Native Hawaiian participants in a panel discussion titled "Shifting Paradigms."
Crabbe's presentation focused on the historic transfer of the cloak and helmet of Kalani'ōpu'u from the National Museum of New Zealand Te Papa Tongarewa to the Bishop Museum in Honolulu in 2016. Crabbe represented OHA's role in negotiating the return home of the royal treasures, ferreted away from Hawai'i more than two centuries ago. The handover affirmed the indigenous viewpoint that cultural artifacts should reside with the people who vest them with meaning and not with outsiders who falsely position themselves as neutral custodians of knowledge.
Perspectives on how museums can reimagine their role and shed old colonial biases were also explored by co-panelists Mike Nāho'opi'i, director of the Kaho'olawe Island Reserve Commission, and Edward Halealoha Ayau, a repatriation advocate. The American Studies Department at UH Mānoa sponsored the event titled "Seeding Authority." For more information, go to manoa.hawaii.edu/amst/home. — Liza Simon
Kamehameha offers more than $12 million in college scholarships
Applications are being accepted for Kamehameha Schools (KS) college scholarships for the 2019-20 school year.
"With support from community partners, Kamehameha offers a variety of options to help college students take that next step in their educational journey toward a fulfilling career," said Maile Cluney, senior manager of KS' Financial Aid and Scholarship Services Division.
Students pursuing undergraduate degrees can apply for KS' College Need-Based Scholarships until Feb. 14. The merit-based 'Imi Na'auao Scholarship program for graduate students has a Jan. 31 deadline. The Pauahi Foundation also has more than 100 donor-funded scholarships for part- and full-time students, as well as those in vocational programs. Applications for the Pauahi Foundation Scholarships are due Feb. 8.
For more information on college scholarships, visit www.ksbe.edu/college.
Ten awarded Native Hawaiian Health scholarships
The Native Hawaiian Health Scholarship program has named 10 recipients in its 2018-2019 cohort of scholars: Taryn Achong, Kapono Ahuna, Anishalynn Ashby, Ian Awai, Kerri Cummins, Ka'ahukane Leite-Ah Yo, Haunani Louis, Vance Miyamoto, Naomi Nihipali and Bianca Paishon.
The awardees are studying nursing, social work and medicine, and one is studying to be a physician's assistant, according to Papa Ola Lōkahi, which administers the scholarship program. More than 285 scholarships have been awarded to this program, and more than 200 recipients have joined the workforce across six islands.
"We're especially proud to see our NHHSP alumni rise to positions of leadership within the Hawaiian, medical and public health communities," said Sheri-Ann Daniels, executive director of Papa Ola Lōkahi. "Involved in policy, administration or clinical practice, these leaders are changing the way health care is delivered in Hawai'i, and they're extraordinary role models for others who aspire to serve in healing professions."
SALT at Our Kaka'ako wins prestigious honor
The Retail Merchants of Hawai'i Ho'okela Awards selected SALT at Our Kaka'ako for its Shopping Center of the Year (SCOTY) award, presented by the International Council of Shopping Centers.
The SCOTY recognizes Kamehameha Schools Commercial Real Estate Division's success with the urban Honolulu destination for shopping, dining and entertainment.
"SALT at Our Kaka'ako is at the heart of a diverse community and demographic. One challenge was to create a place that could serve this unique neighborhood and its visitors," said SALT at Our Kaka'ako General Manager Jimmy Ventura. "The Shopping Center of the Year Award shows that we have met that challenge."
"Our mix of tenants at SALT at Our Kaka'ako all support the community with products, services and amenities it needs and wants, from family-owned businesses, local shops, boutiques and diverse dining experiences," he said.
---
E kala mai
A news brief in the November issue of Ka Wai Ola listed incorrect dates for planning events commemorating the bicentennial since Kamehameha I's passing. Please refer to the correct dates for 2019 commemoration events from Ahu'ena Heiau below:
Wednesday, May 8, 2019
Kahu Kealoha Kaopua and Kauhane Heloca will lead a procession of 15 to 20 chanters at 5 a.m. along Ali'i Drive and leading to a sunrise (5:41 a.m.) ceremony with appropriate protocols at Ahu'ena Heiau. The Royal Order Kamehameha I Moku o Kona will chant E Ala E at sunrise. Hawaiian societies, cultural entities, civic clubs and others are invited to attend and present ho'okupu.
Educational walking tours of Ahu'ena Heiau and Kamakahonu will continue throughout the day. Kamakahonu was designated as a National Historic Landmark in 1962 and was placed on the Hawai'i State Register of Historic Places in 1993.
Chanters wishing to participate and cultural groups wanting to present ho'okupu are invited to contact Kealoha Kaopua at kealoha@ibphawaii.com or Kauhane Heloca at moonihoawa@yahoo.com for more detailed event information.
Saturday, May 11, 2019
Ho'ike
King Kamehameha's Kona Beach Hotel Luau Grounds
Celebrate King Kamehameha's legacy with cultural demonstrations, tiki carving and lauhala weaving demonstrations, traditional Hawaiian games, keiki hula, Hawaiian entertainment and Hawaiian food.
For more information contact Ahu'ena Heiau, Inc. Board Chair Tommy Hickcox at 808-756-0756.