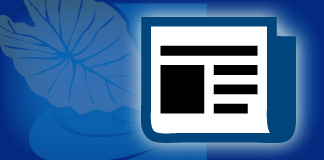 Born into a musical family, Alfred Apaka, Jr., came from Hawaiian royalty. His great-aunt, Lydia Aholo, was an educator and the hanai daughter of Queen Lydia Liliʻuokalani. Apaka's father, Alfred, Sr., was himself an accomplished musician and later recorded with his son for Capitol Records; his son, Jeffrey, is also a musician.
Alfred Junior's great talent eventually landed him a spot as a featured singer on the famed "Hawaiʻi Calls" radio broadcasts – and then came regular shows with the Moana Serenaders at Waikīkī's Moana Hotel. From there, he moved to Don the Beachcomber's where, in 1952, Bob Hope "discovered" him. Appearances on Ed Sullivan's prestigious "Talk of The Town" and "The Dinah Shore Show" followed, giving national television exposure for both Apaka's golden voice and for Hawaiʻi.
George Kanahele, a critical observer of Hawaiian music later wrote, "Alfred Apaka possessed one of the most remarkable voices to ever come out of Hawaiʻi."
Apaka was indeed the most influential Hawaiian performer of his time, setting the standard for all modern Hawaiian music. Performances showcasing his voice, good looks and personality put Henry Kaiser's Hawaiian Village Hotel "on the map." An enormous, golden, 4,000-seat geodesic dome was built by Henry Kaiser's Kaiser Aluminum and Buckminster Fuller (inventor of the geodesic dome) to accommodate Apaka's huge audiences.
As his fame grew, he became a recording artist and rising MGM movie star, spreading the appreciation of Hawaiian music around the world. Israel Kamakawiwoʻole once said, "He was definitely one of my biggest inspirations, maybe the biggest. The red carnation lei, the spotlight on the ukulele player in the middle, the hula dancers coming out every once in a while – he invented all of that."
Apaka elevated many of the romantic "hapa haole" songs to international prominence, including: "Haunani," "Nalani," "My Isle Of Golden Dreams," "Lovely Hula Hands," "I'll Weave A Lei Of Stars," "Beyond The Reef," "Ebb Tide," "White Ginger Blossoms," "Here In This Enchanted Place," "Hawaiian Wedding Song," and "Red Sails In The Sunset."
Apaka was planning his first national television special at the time of his unexpected heart attack and death at the age of 40, in 1960. He was interred with a microphone in his hands in Honolulu's Diamond Head Memorial Park. On March 19, 2019, we remember what would have been his 100th birthday.
"Because Hawaiʻi is a land far removed from all others, the most distant populated place on earth, the people of Hawaiʻi hold on to their traditions – their history – dreams," former This Week Magazine publisher Ron Cruger. "The splendid voice of Alfred Apaka remains in the memories of the Hawaiians. His magical voice filled the sweet Hawaiian air with thoughts of love and dreams of what could be. When Apaka sang a hush fell over those listening. Most had never heard such beauty weave through the air. It was romantic and strong. It made you dream."
Should you wander through the Tapa lobby of the Hilton Hawaiian Village Resort in Waikīkī, you'll find a life-size bronze statue honoring the legendary Hawaiian romantic baritone, Alfred Aholo Apaka, Jr. At the statue's 1997 dedication, long-time family friend, the late Gladys Brandt said, "His ability to render a Hawaiian melody was unduplicated for the time, and perhaps forever."
---