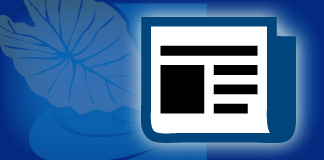 Aloha kākou! Ke lana nei ka manaʻo ua maikaʻi ka makahiki 2020. E like me ka mea i ʻōlelo ʻia akula i kēlā mahina aku nei, e nānā ana nō i nā ʻano hui like ʻole e kōkua nei i ko kākou poʻe kanaka i ʻoi aku ke ola ʻana i kēia wā. He wahi maikaʻi ʻo Hawaiʻi mokupuni ma muli o ka hoʻokumu ʻia ʻana o nā ʻano papahana hoʻonaʻauao like ʻole no ka poʻe ʻōpio. "ʻO ke kula ma loko o ke kula," ke ʻano o ke aʻo ʻana ma ke Kula Kiʻekiʻe ʻO Waiākea. Ke aʻo nei nā haumana i nā mea o ko lākou ʻiʻini ma ke kula kiʻekiʻe ma mua o ka hele ʻana i ke kulanui. Aia ʻelima mau Kula Liʻiliʻi Kuikawā ma ua kula nei. ʻO kekahi o ia mau Kula Liʻiliʻi Kūikawā ke Kula Liʻiliʻi Kūikawā "ʻOihana-Wilikī-Akeakamai-ʻEnehana." Eia hoʻi, aia ma loko o ia Kula Liʻiliʻi Kūikawā ka papahana lopako. Ua hoʻomaopopo ā hōʻike aku nāhaumana o ka papahana lopako a me ko ia papahana mau kumu i ko lākou ʻike lopako ma kēia mokuʻāina ā puni i nā makahiki he ʻumi ā he ʻumikūmālua paha i hala aku nei. I kēia lā, ke holo maikaʻi nei ka papahana lopako ma ka Mokuʻāina o Hawaiʻi ā puni ma muli iki paha o ka hoʻolale ʻana o ko ke Kula Kiʻekiʻe ʻO Waiākea mau haumana me nākumu i nā haumana ma waho o ko lākou kula ponoʻī.
Ua kaʻakaʻa mai nā maka i ke kipa ʻana i kēia kula ā me kēia Kula Liʻiliʻi Kūikawā hoʻi. Ua ʻikea nā papahana hoʻonaʻauao like ʻole he nui ma mua o ko kākou mau haumana i kēia mau lā. ʻO ka ʻuku ʻana no kēia mau papahana ka pilikia nui i nā manawa ā pau. ʻO ke kālā mai i nā ʻano waihona kālā ā kumu kālā like ʻole paha ka mea nāna i hoʻoholomua i kēia papahana lopako. I kēia mahina aʻe, e nānā ana i nā ʻano waihona kālā ā kumu kālā like ʻole paha no kēia papahana ā e hoʻomaopopo aku paha i ka nū hou e pili ana i ka holomua ʻana o nā haumāna ma hope o ke kula kiʻekiʻe. Aloha!
---
Aloha kākou! We hope 2020 is treating you well. As mentioned in last month's article, we will turn our focus this year to organizations that are helping our people create a better life for themselves. Hawaiʻi Island is a place that offers great educational opportunities for our young people. Waiākea High School offers an "Academy" approach to learning. It is like a school within a school. Students pursue their interests in high school rather than waiting for college. There are five Academies at the school. One of those Academies is the "Business-Engineering-Sciences-Technology Academy (B.E.S.T.)." Within that Academy is an additional program in robotics. The students of the robotics program and its advisors have shared their knowledge of robotics throughout the state for the past 10-12 years. Today, a robust robotics program exists throughout the state of Hawaiʻi due in part to Waiākea High School students and faculty sparking an interest in other students outside of their school.
Our tour of the school and this particular Academy opened our eyes to the educational opportunities in front of our students today. Funding these opportunities are always difficult. Funding sources based on Hawaiʻi Island have helped the robotics program thrive. Next month, we will look at funding sources for this program and hope to share information about the post-high activities of students from Waiākea High School. Aloha!