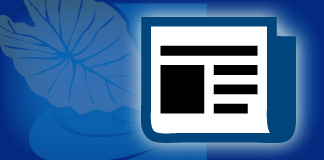 Hale O Nā Aliʻi O Hawaiʻi held their 67th annual convention in Kalamaʻula, Molokaʻi from July 27 through July 29, 2017. The convention was hosted by Hālau ʻO Kawānanakoa, Helu ʻElima of Molokaʻi. Hale O Nā Aliʻi O Hawaiʻi is one of the four royal societies, or ʻAha Hīpuʻu, along with The Royal Order of Kamehameha I, ʻAhahui Kaʻahumanu, and Māmakakaua. Hale O Nā Aliʻi O Hawaiʻi was reorganized on April 7, 1918, and secured with a Charter of Incorporation, including a Constitution, Bylaws and Rules and Regulations, written in both Hawaiian and English. Hale O Nā Aliʻi O Hawaiʻi perpetuates our ʻŌlelo Hawaiʻi, and our culture and traditions, while looking after the welfare of our communities.
There are seven hālau across the islands – Hālau ʻO Wahīikaʻahuʻula (Honolulu, Oʻahu), Hālau ʻO Kalākaua (Hilo, Hawaiʻi), Hālau ʻO Kapiʻolani (Kauaʻi), Hālau ʻO Liliʻuokalani (Maui), Hālau ʻO Kawānanakoa (Molokaʻi), Hālau O Keliʻiahonui (Waimea, Hawaiʻi) and Hālau ʻO Poʻomaikelani (Kapolei, Oʻahu).
The history of the annual gatherings for Hale O Nā Aliʻi dates back to March 29, 1947. Princess Abigail Wahīkaʻahuʻula Kawānanakoa recognized a need for the hālau, from different islands, to meet, reconnect, and have friendly interactions with one another. The annual meetings were an important opportunity to share manaʻo, especially during challenging times.
Over the course of this year's convention, the delegates had breakout sessions, heard from guest speakers, held their general meeting, and even had a Song Contest. OHA provided kākoʻo to Hale O Nā Aliʻi in securing space at the Kūlana ʻŌiwi Hālau. I was able to attend and was honored to address the attendees on the Friday of the convention.
Despite the overall success of the convention, there was also an underlying concern with low membership numbers. The overall membership of Hale o Nā Aliʻi has struggled in recent years, with only 215 registered active members in 2017. This is a stark contrast from 2013 to 2015, when membership was as high as 1,000 members.
The hālau have been directed to increase their membership by 25 percent. With seven hālau across our islands, and on the precipice of their 100th anniversary, it is crucial that they are successful in their membership goals. This task at hand may seem challenging, considering the 80 percent decline in membership in recent years. But I am encouraged by the words of our beloved Queen Liliʻuokalani –"Never cease to act because you fear you may fail."
---
Note: Trustee columns represent the views of individual trustees and may not reflect the official positions adopted by the Office of Hawaiian Affairs Board of Trustees.