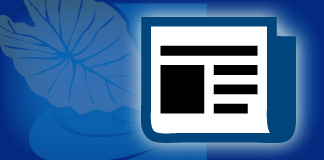 There's nū 'oli (good news) on the horizon for our beloved tree, the 'Ōhi'a Lehua, on Moku O Keawe (Hawai'i Island). To refresh and summarize the challenge confronting us: The 'Ōhi'a Lehua (Metrosideros polymorpha) faces extinction on the Big Island because of the Rapid 'Ōhi'a Death fungus (aka ROD). Thus far ROD (Ceratocytis fimbriata) is only a threat and it's difficult to comprehend "extinction" as a possibility. Those of us who are kama'āina to the Big Island grew up with the 'Ōhi'a Lehua (as well as with guava and its second cousin-waiawī and Christmas berry). To think that 'Ōhi'a someday could be "a memory" is difficult to accept, imagine, fathom.
Unless an antidote is found, "possibility" will morph into "reality." The landscape evidence is prevalent in the uplands of South Hilo, Puna, Ka'ū and Kona. And, ROD continues to spread like a cancer across, over and throughout Hawai'i Island. It's in the uplands. It's in our forests and watersheds. This is not Fake News. It's definitely not an "alternative fact," "Henny Penny" stuff or an event to be ignored. And, the last thing we need is an EO from POTUS to deal with ROD.
ROD surfaced in 2014 like a "thief in the night" and reared its ugly head. In its wake and in a very short time, ROD has destroyed thousands of acres of 'ōhi'a trees. It must be stopped before it pulverizes a significant and special piece of our cultural tapestry into oblivion. We are on Red Alert, in crisis mode. The kuleana is ours to deal with. The good news—Kōkua is Here. Individuals (State Directors-Suzanne Case-DLNR and Scott Enwright-DOA, Dr. BJ Friday and Dr. Lisa Keith-USDA), several public-private institutions (USDA, PBARC, USFS, DLNR, DOA, Kamehameha Schools to name a few), are focusing their energy, working feverishly and sharing 'ike (knowledge) and resources, to combat this nasty intruder and unwelcomed fungus. It's a fungus new to Hawai'i and to science. This is problematic as an antidote has yet to be discovered. But we must remain hopeful a cure will be found to spare our 'Ōhi'a Lehua from the Endangered Species List.
In the meantime this is how we can help on the Homefront, at the local, community level on Moku o Keawe where the best problem solving must occur (taken verbatim from https://cms.ctahr.hawaii.edu/rod/Home.aspx website):
RAPID 'ŌHI'A DEATH
What Can We Do?
Don't move 'Ōhi'a wood or 'Ōhi'a parts. If you don't know where the 'Ōhi'a is from don't move it.
Don't transport 'Ōhi'a inter-island. Follow the Hawaii State Department of Agriculture quarantine rule and help to keep ROD from reaching the other islands.
Avoid injuring 'Ōhi'a. Wounds serve as early entry points for the fungus and increase the odds that the tree will become infected and die from ROD. Avoid pruning and contact with heavy equipment whenever possible.
Clean gear and tools, including shoes and clothes, before and after entering forests. Brush all soil off of tools and gear, then spray with 70 percent rubbing alcohol. Wash clothes with hot water and soap.
Wash the tires and undercarriage of your vehicle with soap and remove all soil and mud, especially after traveling from an area with ROD and/or if you have traveled off road.
By following these simple practices, we can all ensure 'Ōhi'a for our future.
An 'ōlelo no'eau from Pūku'i on 'Ōhi'a Lehua — I mohala nō ka lehua i ke ke'ehi 'ia e ka ua. Translation-The Lehua blossom unfolds when the rains tread on it. EXPLANATION – People respond better to gentle words than to scoldings.
---
Note: Trustee columns represent the views of individual trustees and may not reflect the official positions adopted by the Office of Hawaiian Affairs Board of Trustees.