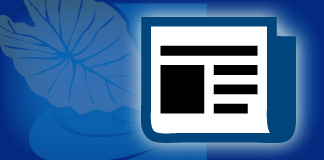 Guest columist Franco Acquaro, Ph.D., associate director of Kīpuka o ke Ola, contributed this piece.
It is a real honor to write this brief introduction on the work and person of Dr. Claren Ku'ulei Kealoha-Beaudet. She is a Native Hawaiian leader in the field of healthcare on Moku o Keawe and is the founder and executive Director of Kīpuka o ke Ola (KOKO) – Native Hawaiian Rural Health Clinic in Kamuela. She is also one of the clinical psychologist direct service providers on the treatment team at KOKO. She manages to be beautifully simple and complex (in the best sense of both words) at the same time – and in the end she impresses all who come to know her as passionate, persistent and purposeful.
Dr. Kealoha-Beaudet was born and raised on Kukuiau Ranch on the slopes of Mauna Kea to Paul (paniolo) and Clara Kealoha (cook). She was the youngest of five children with older siblings Dorian Chai, Keala LeeLoy, Paul Kealoha Jr. and Perry Kealoha. The Kealoha family eventually moved to Honoka'a town where Dr. Kealoha-Beaudet graduated from Honoka'a High School. Education was highly valued by the Kealohas and she would go on receive a secondary teacher certification from the University of Hawai'i-Hilo, a master of arts degree in systemic family therapy from American School of Professional Psychology, and a doctoral degree in clinical psychology from Argosy University (as a Native Hawaiian Health Scholar recipient). Later she built a home on her family's Hawaiian Homestead Ranch along with her husband Brandi Beaudet and together they raise their two teenage sons: Keawemauhili and Kamauokealoha.
Some seven years ago the Waimea Hawaiian Homesteaders Association conducted a community needs assessment which identified the need for a Native Hawaiian health clinic in North Hawai'i – one that understood and could address the significant and dire health needs of lāhui within a culturally fluent framework. Dr. Kealoha-Beaudet immediately accepted this kuleana and with her passion, persistence and purposefulness set out to fulfill the vision of a Native Hawaiian people with health parity to the non-Native Hawaiian community. She inspired a team of community leaders and healthcare service providers – who believed in the mission and believed in her uniquely qualified leadership capacity – to get into the lo'i alongside her and move the vision toward reality.
Now, in just a few short years, Kīpuka o ke Ola (KOKO) has gone from a concept to achieving:
• a 501c3 non-profit organization status
• a federal accreditation as an Independent Rural Health Clinic
• an "exemplary provider" status as a Patient Centered Medical Home program
• a fully blended interdisciplinary health team with primary care, pediatric care, psychiatric care, psychological care and clinical case management
• an ADA-compliant state of the art healthcare facility with culturally competent and culturally fluent staff
• an organization that will later transition to the Waimea Hui Project – the large scale community collaboration for advancing Native Hawaiian well-being in North Hawai'i
Veena Das (1990) once wrote, "defin(ing) health so that instead of becoming a measure of the normal and the pathological, a means by which power may be exercised upon the one who declares that he is in pain, it becomes a means for the practices of freedom." Dr. Kealoha-Beaudet too believes that the health and well-being of the lāhui is a fundamental and foundational piece of lasting sovereignty and so she has committed her life to securing the health sovereignty for lāhui. Her passion, persistence and purpose assures the success for this project.