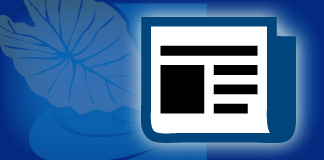 This article is courtesy of Karla Kahawaiola'a Sibayan.
Patrick Le'o Kahawaiola'a, is a native Hawaiian, 73, born and raised on the 'āina ho'opulapula ma KEAUKAHA. He attended St. Joseph's School in Hilo and served with honor in the U.S. Navy during the Vietnam conflict.
After leaving the Navy, he decided to stay in California and was hired as a letter carrier with the U.S. Post Office. That year, he also met and married his wife of 49 years, Raynette Kaanapu of Papakōlea, who passed in 2015. They had two daughters and a son while in California. He transferred back to Hawai'i in 1980 after the passing of his dad, who had been living in Keaukaha since 1934. He retired from the USPS after 32 years of service.
The Hawaiian Renaissance was in full swing. The Office of Hawaiian Affairs (OHA) was in its infancy and the DHHL was under siege for the misuses of trust lands by executive orders by state and county governments. The Hilo Airport expansion displaced half the community of Keaukaha. Agricultural lands were taken for the Hilo Flood Control and Hilo Sewage Plant. The wait list for Hawaiian Home Lands was getting longer and corporations were now coming into Hawai'i and building shopping centers while native Hawaiians were still waiting and dying on the wait list.
He was involved in the creation of Ka Lāhui Hawai'i and gave testimony on the congressional hearings on the Akaka Bill. He participated in civil disobedience at Puhi Bay, the building of Wal-Mart and the Prince Kūhiō Plaza. He fought water issues, tax issues and land exchanges by DHHL.
As a proud product of the Homestead in 1985, being mentored by Kupuna Genesis Lee Loy, Sonny Kaniho, Kwai Wah Lee and others, he became actively involved in the Keaukaha Community Association (KCA). He first served as a board member, then in other capacities and since 1999 has served as the President of KCA, which works to better the conditions of native Hawaiians as defined. This is his fifth three-year term.
Not one to duck any controversial issue, he educated himself and researched the State Constitution in regards to the Admissions Act, the Hawaiian Homes Commission Act (HHCA) of 1920 and legislation dealing with amendments to the HHCA by the State Legislature. Along with other like-minded beneficiaries, he created a non-profit arm of the Keaukaha Community Association. This allowed KCA to develop partnerships with stakeholders and work as part of the grassroots effort to rebuild the Kawananakoa Gym with OHA, to improve reading and math for students at Keaukaha Elementary School, to build a new cafeteria for the students, to create the Keaukaha Technology and Resource Center (computer lab), and to become fiscal sponsors for Keaukaha sports: football, baseball, volleyball, and the Wa'a Program at Palekai Kūhiō Bay.
He served on Hawai'i County's Redistricting Commission, Geothermal Commission, and the Charter Commission. He served on the local school board of Ke Ana La'ahana PCS, the Local SCC of Keaukaha School and as a board member of PUEO, who strongly believes that fair compensation and "a seat at the table" is due for the use of our trust and ceded lands including Mauna Kea, with or without the Thirty Meter Telescope. Astronomy, having been on Mauna Kea over 40 years, owes at least that much to the native Hawaiian people.
He believes the future of the beneficiaries of Prince Jonah Kūhiō's legacy is to become involved and to ASSERT THEIR RIGHTS AND IF NEED BE…E Kū'Ē. He is NOT here to convince anyone to think like him. Just THINK…AND DO WHAT IS RIGHT. E hana pono mai. Keaukaha Smiles on you.