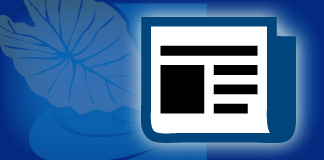 Aloha kākou!
As we continue our focus on Hawaiʻi Island kanaka who have helped our community, we turn our attention this month to a keiki o ka ʻāina no Hilo. Please join in celebrating the accomplishments and service of this kanaka to our lāhui…especially our ʻōpio.
On September 14, 1970, Emerson Kihei Nahale-a was born. He was raised on the ʻāina hoʻopulapula of Keaukaha and Panaʻewa. He attended the Kamehameha Schools and later went on to UH-Hilo where he received his BA in Hawaiian Language. Although unexpected, education, specifically Hawaiʻi cultural-based education, has been a part of his professional career. He has taught at every level from pre-school to the university system as well as after-school and community-based education programs for almost 30 years.
Some years ago, Kihei, his wife, Noheahiwahiwa and their two keiki, Wahinepoaimoku and Nahiku. moved from Moku o Keawe to Oʻahualua to the moku of Koʻolauloa. He is the director of the Huliāmahi Education Alliance in Heʻeia, dedicated to providing more access to Aloha ʻāina based education to youth in and around the ahupuaʻa of Heʻeia.
Kihei is one of the steering committee members for Koʻolau ʻāina Aloha, a network of Aloha ʻāina education programs throughout the Koʻolau area. Furthermore, he is one of the founding members of Project KULEANA, a Hawaiian well-being project which explores the concept of Kuleana through music. He is an active supporter of Hui O Hauʻula as well as Maunawila Heiau.
He is a strong advocate, supporter and practitioner of traditional lifecycle practices like the ones taught by the Hawaiian birth practitioner program Ka Lāhui O Ka Pō at Hoʻoulu ʻāina in Kalihi. He also believes in the proper treatment and return of our iwi and mea kupuna as taught to him by his mentor and friend, Halealoha Ayau of Hui Mālama I Nā Kupuna O Hawaiʻi Nei. Kihei is proud to have contributed to the work of returning iwi kupuna to the poli of Haumea in order to return mana back to our ʻāina and our people.
This kanaka exemplifies Mālama Lāhui. While being able to raise their two keiki as first language speakers of ʻōlelo Hawaiʻi has brought he and Nohea great joy, other milestones of kanaka importance exist. One of these is the fact that ʻohana now have the legal right without prejudice to take their child's ʻiewe, the placenta, home to practice māwaewae.
Kihei feels he has been blessed to work with community and ʻōpio in building their sense of Haʻaheo and Aloha ʻāina through his work with Koʻolau ʻāina Aloha, the Huliāmahi Education Alliance and KEY Project. He is also supporting others through music performance and productions like Project KULEANA and Keao Costa's CD entitled "Aloha Oʻahu." Kihei shared, "To be able to be a part of other people's growth and well-being honors the values and morals of my parents Albert and Connie Nahale-a."
Kihei shared this inspiring manaʻo. "My hope for the future of our Hawaiian community is for our current generation of leaders to continue to 'ʻAuʻa ʻIa' (hold tight) as our kupuna have, no matter what the cost. From Kuamoʻo to Hale Aliʻi ʻO ʻIolani, from Kahoʻolawe to Mauna Kea, we must continue to be naʻau aliʻi as our great aliʻi were. We must continue to praise our Akua, Aliʻi, ʻĀina and Mea Hanohano through Hawaiian traditions such as moʻolelo and mele. I truly believe that if we continue to educate our ʻōpio in this way we will eventually come to see Hawaiʻi as a prosperous and healthy Lāhui that actually looks and feels Hawaiian."