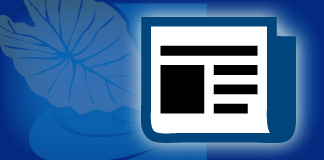 Aloha mai kākou,
A full year has elapsed since the the 2018 eruption in Puna. We cannot underestimate the power of Tūtū Pele. Some see Pele as destroying but others will look at it as a clearing, cleansing, or reclaiming of the land. In a sense, this helps with the coping from the trauma, because it is Mother Nature; this is its will.
The county, state and OHA have responded as best as they can. We worked with an organization that was located in Puna, that knew the families that were affected and knew how to get the help to them.
Now that has a year has elapsed, the conversation is shifting to the structural challenges on Hawai'i Island, and throughout the pae'āina: the need for permanent, affordable housing. Many are working on this problem, and it is a key objective of our strategic efforts.
At OHA, our mandate is improve the conditions of Native Hawaiians, and primarily the conditions of those who need it the most. With the rising cost of living, the gap between those who have and those who do not is increasing; it's not a shared dream anymore. Many people are barely surviving. We have to examine how to strategically apply our resources so that our lāhui can thrive here in our homeland.
OHA is embarking now on its biennium budget process. We want to hear from our community how they think OHA resources should be directed over the next two fiscal years to best meet the needs of our people. Soon we'll have a clearer picture on how much funding is available to help those people who need assistance long-term.
Many people are still living in temporary shelters or staying with family. Some are houseless; others have left Puna to find other opportunities. The leadership of the Big Island has done a good job in thinking long-term, by seeking funds for sewer upgrades, electricity, water, and housing. We should continue to work strategically, driven by our aloha for the lāhui, to advance a better Hawai'i for all.
'O au iho nō me ke aloha a me ka 'oia'i'o,
Kamana'opono M. Crabbe, Ph.D.
Ka Pouhana/Chief Executive Officer