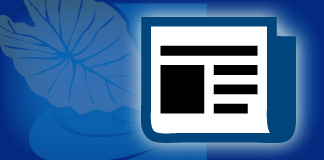 By Kau'i Sai-Dudoit
One of the greatest symbols of any nation is its national flag. During times of great sacrifice or strife on foreign soil, that flag represents home and all the comforts that imagery conjures. It bears witness to the agency of its rulers and patriots to secure the ongoing independence of the country.
Let us look back and discover the history of our nation's flag.
In 1794, Kamehameha united Hawai'i island as one kingdom and ceded Hawai'i as a protectorate under King George III. He was gifted a British flag by Captain George Vancouver and proudly flew that flag at his residence, Kamakahonu, and adopted it as Hawai'i's national flag for more than two decades.
In 1816, Kamehameha adopted a national flag design very similar to that of the British East India Company, whose members were regular visitors to Hawai'i during Kamehameha's time. The flag had the Union Jack in the canton, or top-left corner.
Kamehameha wanted to sail a ship, the Ka'ahumanu, to China to sell sandalwood, and he, along with John Young, Isaac Davis, and Captain Alexander Adams sought to make a flag for the ship. The flag they designed had the Union Jack in the canton and nine alternating stripes of red, white, and blue.
In the Hawai'i State Archives, in the Alexander Adams Collection, there is a drawing of those aboard the ship Ka'ahumanu (circa. 1817) that Alexander Adams commanded for King Kamehameha I. The drawing displays both the National Flag and the Royal Flag which indicates that Kamehameha is aboard the ship when this drawing was done, because the Royal flag only flies when the mö'ï, or ruling monarch, is present.
In 1819, after the death of Kamehameha, a French ship Uranie arrived in Hawai'i under the command of Captain de Frecinet. Chief Kalanimoku boarded the ship and requested to be baptised by a Roman Catholic priest aboard. This image was captured by Jacque Arago entitled, The Baptism of Kalanimoku, where we can see the Hawaiian flag draped behind the priest.
In February of 1843, Lord George Paulet of Great Britain arrived in Hawai'i with demands that resulted in a five month occupation of our nation. The Hawaiian flag was drawn down and the British flag flew over these islands. All of the ali'i, including the ali'i children from the Chiefs Children's School, were in attendance and witnessed this sad occasion. Lot (Kamehameha V) was 12 years old, Pauahi (Benefactress of the Kamehameha Schools) 11, Alexander (Kamehameha IV) 9, Lunalilo (Hawai'i's first elected monarch) 8, Kalākaua (Hawai'i's second elected monarch) 6, and Lili'uokalani (Hawa'i's last reigning monarch) was just 4 years old. They knew the significance of their nation's flag being lowered from its place of prominence and being replaced by another. On July 31, 1843, Lā Ho'iho'i Ea or Hawaiian Restoration Day, they, along with the nation, rejoiced when they witnessed their flag being returned to its rightful place. All of these ali'i along with Kauikeaouli, Kekāuluohi, Mataio Keküanāo'a, John Papa 'Ï'ï, and others, knew well their national flag.
In 1842, while Kamehameha III, Kauikeaouli, found himself dealing with gunboat diplomacy coupled with the ongoing complaints of British Consul Richard Charleton. In response, he sent three envoys on a mission to seek the recognition of Hawaiian independence. He appointed William Richards, Timoteo Ha'alilio, and British subject; Sir George Simpson. In October of 1843, while on their mission in London, Ha'alilio and Richards commissioned the Hawaiian Coat of Arms to be made at the College of Heraldry in London.
The envoys successfully completed their mission and Hawai'i enjoyed the distinction of being the first non-european nation in the world to receive formal recognition of its independence and became a member of the family of nations. November 28, 1843, Lā Kü'oko'a or Hawaiian Independence Day, enjoyed nationwide celebrations as documented in the Hawaiian language newspapers. Throughout the journey, Ha'alilio was plagued with illness and he eventually passed on December 3, 1844 aboard a ship headed for home. This Hawaiian patriot died for our country under the protection of our flag. This is evidenced in this book located at the College of Arms (formerly College of Heraldry) in London, that clearly shows the flag to which Ha'alilio pledged his allegiance. [Note the 9 stripes of the flag]
The previous flag remained our National flag until 1845 when it was announced in the Polynesian Newspaper, on May 31, 1845: "At the opening of the Legislative Council, May 25, 1845, the new national banner was unfurled, differing little however from the former. It is octo. (eight) parted per fess (horizontal band), first, fourth and seventh, argent (silver represented by the color white): second, fifth and eighth, gules (the color red): third and sixth, azure (light purplish blue), for the eight islands under one sovereign, indicated by crosses saltire, of St. Andrew and St. Patrick quarterly, per saltire counter changed, argent (white) and gules (red)."
On January 1, 1862, on the front page of Ka Nupepa Kü'oko'a is a color print of our national flag. It was the second colored print in any newspaper in the world, second only to Great Britain who had a colored comic strip the year prior. Beneath the colored flag is written the history of the flag in Hawaiian and English but the Hawaiian continues with a mele proudly presenting their pride in their Nation's flag. [Translation provided by Awaiaulu]
During the aftermath of the overthrow of Mö'ïwahine Lili'uokalani, an article appeared in Ka 'Oia'i'o newspaper on September 7, 1894 with the heading, "All True Hawaiian Patriots! Hold steadfast for your land! Your Queen and your flag! The first paragraph says: [translation provided by Awaiaulu]:
A person's love for one's own birth lands is vital, one's Sovereign is treasured and the flag of one's beloved nation is cherished. Nothing in the world is more celebrated than a nation like this one that has cherished a love for its land, its Sovereign and its ongoing independence under the protection of its national flag.
When I see our flag, I don't see colonial impositions or forced western practices. I see Kamehameha, Kauikeaouli, and Timoteo Ha'alilio, who toiled and dedicated themselves to the progress and continuity of our nation. I see Joseph Nāwahi, Kü'aihelani Campbell, James Kaulia and all of the members of the Hui Aloha 'āina who worked diligently to protect and preserve our country and our Queen.
As we embrace our mele, mo'olelo, and stories of our people that stretch back to antiquity, so, too, must we embrace these political symbols of our status as an independent nation state. The conscious sacrifice and determination for our country's welfare is something we should, and must, embrace, for we are the descendants of warriors, of kālai 'āina, of statesmen, of kahuna, of strategists, of historians, of writers, of teachers, of genealogists, of mahi'ai, of scientists, of lawai'a, of lawyers, of carvers, of weavers, of hula masters, of kālai wa'a, of storytellers and more. This flag is what represents the collective memory of all of that. It is indeed a proud legacy they have left for us. E welo mau ka hae Hawai'i!
Photos Courtesy of Kau'i Sai-Dudoit