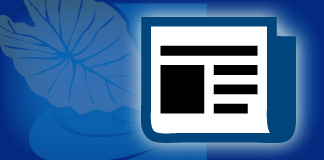 Some of Hawai'i's most celebrated musicians have released new Hawaiian music CDs in 2018. The new albums include long awaited new mele from Na Leo and Mark Yamanaka and follow-up albums for recent Nā Hōkū Hanohano award-winners Keauhou and Grammy Award winner Kalani Pe'a. 'Ukulele phenom Taimane has released an entirely original new album, and professional musician Kaleo Phillips has recorded his debut CD. – Ka Wai Ola staff
---
Ua Kō, Ua 'āina
Keauhou
Keauhou, $10
"Ua Kō, Ua 'āina" completes Keauhou's three album suite – their first two albums ("Keauhou" and "I Ke Kō A Ke Au") garnered 15 Nā Hōkū Hanohano awards collectively. The trio, Jonah Kahanuola and brothers Nicholas and Zachary Lum, continue the voyaging theme in "Ua Kō, Ua 'āina," which completes the journey, conveying landfall and arrival. The album features four new compositions and nine seldom-heard mele. Collaborations feature Jeff Au Hoy, Halehaku Seabury-Akaka, Rocky Holmes and John Howard.
"The three albums are meant to be enjoyed as a set," said Zachary Lum. "They are a travelogue of a journey to mele rediscovery."
The three Kamehameha graduates found their musical roots while attending Kamehameha Schools Kapālama, singing in the concert glee club and playing in the band, and the Lum brothers were the student directors for their classes in the renowned Song Contest.
---
Beautiful Day
Na Leo
NLP Productions, $10
Na Leo's first release in five years includes four originals, covers of Bee Gees and Burt Bacharach songs, and a guest appearance by Jake Shimabukuro on 'ukulele. In the 34 years since Angela Morales, Lehua Kalima and Nalani Jenkins met in high school, Na Leo has become the world's largest selling Hawaiian female music group, releasing more than 23 CDs, hitting No. 1 locally more than 20 times and the top 25 nationally twice.
"We wanted to have a new CD for years, and finally the timing was right. Our fans have been asking for new Na Leo originals and we all got into the mood to write music," Jenkins said. "And once we got into the studio, it all started to gel. This was our first time working with Dave Tucciarone as a producer. The flow was natural and easy. I'd call it Hawaiian Pop. It's new but it's very much 'us,' which made us all really happy."
---
No 'Ane'i
Kalani Pe'a
Kalani Pe'a Music LLC, $10
Kalani Pe'a follows up his Grammy Award winning debut album with "No 'Ane'i" ("We Belong Here"), which includes eight original songs that tell stories about Pe'a's life. Guest artists can be heard throughout the album: Amy Hānaiali'i Gilliom, Willie K., Imua Garza, Ho'okena, Dave Tucciarone and others.
"One of the main concepts for this album was to remind our people of the value of becoming primary resources of our land," said Pe'a before the 'No 'Ane'i' release. "The album will hopefully give people the significance of building a foundation and becoming part of that foundation. Once the foundation is secured, we can identify the importance of how to thrive as a people; that our heritage lives on; that we identify our cultural values and practices and how we think as people, and to uplift and uphold the values of how we act and think in a Hawaiian perspective while maintaining our Hawaiian identity."
---
Elemental
Taimane
Diamond Entertainment LLC, $10
In "Elemental," 'ukulele virtuoso Taimane continues her exploration of natural and metaphysical worlds with a song for each element, as well as "Hades" and "Atlantis" that look at the mythical sides of the elements. The songs were created for a 2016 performance at Hawai'i Theatre, and Taimane plans to present the show across the islands and the continent in 2019.
"'Elemental' came about in a very organic way. Nothing in the process was rushed or forced," said Taimane before the album release. "There was time to breathe during each step. The album brings my vision to life more so than any of my past CDs. I can't wait for it to be released into the wild."
---
Lei Lehua
Mark Yamanaka
Hulu Kūpuna Productions, $10
After a five year hiatus, eight time Nā Hōkū Hanohano award winner Mark Yamanaka returns with his third album, "Lei Lehua," which features his songwriting, as well as his soaring falsetto. Nine of the album's 14 songs are original compositions, including a bonus track that appears only on the physical CD. Featured guest artists include Kale Chang, Glenn Mayeda Jr., Les Ceballos and Imua Garza.
"'Lei Lehua' exhibits Mark's amazing musical range and versatility, allowing us an intimate glimpse into his life through music," according to Island Heritage Music. "Those who have fallen in love with Mark's clear, crisp falsetto will not be disappointed with these selections, and those who know his music through his live performances will love the toe-tapping, infectious earworms that he includes in this assessment of some of his favorite tunes. As a whole, the album beautifully displays Mark's deep and enduring love for Hawai'i, for Hilo, and for his family."
---
E Mama
Kaleo Phillips
Maui Tribe Records LLC, $10
Maui artist Kaleo Phillips has released his debut album "E Mama," after playing professionally for several years and touring with bands around the world. "E Mama" focuses on Phillips 'ohana and the strength that has held it together over time, with several tracks dedicated to the people in his life. Willie K., Kapena Delima and Jeff Rasmusen are among the many artists whose talents are featured on the album.
"Kaleo Phillips brings a new refreshing sound from his island home, Maui, and wakes your heart up with a smile!" said Willie K. "Like me, he follows in his father's footsteps with music! Music that will make your spirit jump!"