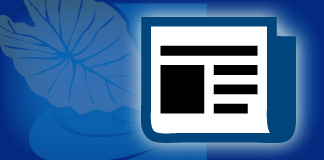 Fred Amina's new book is about a fictional protagonist, Matthew Pinati, but it's a true story that echoes his own life. Raised illiterate in a broken Nānākuli home, he encountered alcohol too early, in 7th grade.
"I was kind of lost in this road. And then I ended up getting into a lot of trouble. Drinking and having fun led to alcoholism," he said.
A life of selling drugs and incarceration seemed to await him.
"Growing up where I'm from, West Side, it's about pride, it's about who's the toughest – I wanted to go to jail to prove how tough I was."
Four years ago, Amina found himself hospitalized for eight days for pancreatitis. On his deathbed he decided to turn his life around. Through his faith and his perseverance he reached sobriety, learned to read, wrote a book, and has found new life and purpose as a motivational speaker, encouraging youth and inmates to learn from his choices. www.fredamina.com.