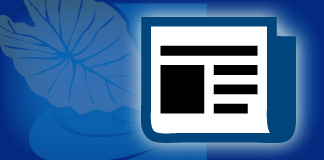 Just in time for Mother's Day, social media sensation Pashyn Santos has a special story to share with all parents and keiki across Hawai'i. Pashyn recently wrote and released her first children's picture book titled "My Mom and I" with illustrations by Mandy Quitog.
"In a world that's more often than not just too busy with work, home life, trends, and distractions that keep us operating on autopilot." said Pashyn. "My Mom and I will encourage children to experience the here and now. A space of mindfulness, self-awareness, and balance."
"My Mom and I" teaches the value of being present and in the moment. The story is narrated by the main character "Keiki" as she takes us through a day spent with her mom, show how she cherishes each moment. Towards the end of the book, we see the mom character take time after her busy day to breathe and be in "the now." Only to then realize that Keiki was living in the now all the while.
"I wrote this book as a great reminder, especially to myself, that children have innocence in them from the beginning. We all did," said Pashyn as she reflects on the origins of the story. "They aren't yet caught up in things like; finishing to-do lists or chasing some perceived wonderful future event that is more exciting than the present moment. They are living presently, absorbing what they experience. I wanted to help them understand that they are way ahead of us all. That for us adults Life has gotten us, but through mindfulness, we can take back and enjoy life. But children already get this."
Celebrate this Mother's Day by living in the now with the "My Mom and I" book. "My Mom and I" is available for purchase at Hallmark locations on O'ahu, The Refinery Honolulu at Kahala Mall or online at www.pashynfruit.com.