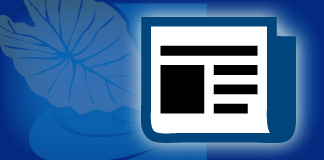 The Hawaiian Civic Club of Honolulu hosted the 2019 Holokū Ball in June at the Royal Hawaiian Hotel Monarch Room. With 329 attendees and $82,000 raised, the event was "very successful," according to Holokū Ball Chair Maluhia Kauahi.
This year's event was titled "Ka nehe o ke kai hawanawana – The Rustling of the Whispering Sea," named for a line in the mele Waikīkī Hula. The line refers to Prince Jonah Kūhiō Kalani'anāole's Waikīkī Beach home known as Pualeilani.
The dinner included Hawaiian music by Ku'uipo Kumukahi and Karen Keawehawaii, 'Uhe'uhene, Walea Music, and Ei Nei. The fashion show included outfits designed by Manaola, Kini Zamora, Iris Viacrusis of Hilo and several others.
Nineteen companies purchased corporate tables, which contributed substantially to the large monies raised this year. 90% of donations, plus 20% of interest earned, will go to college and graduate-studies scholarships.