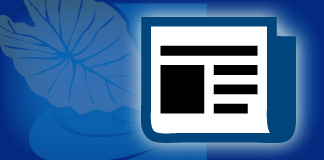 The 8th Annual Mele Mei, a celebration of Hawai'i's music, culture and arts, presents live music every weekend in May on O'ahu, Maui, Kaua'i and Hawai'i Island.
After a late April launch, Mele Mei hits its stride on May Day with a Lei of Stars Brunch Concert honoring 2017 Hawaiian Music Hall of Fame inductees Richard "Babes" Bell, the Isaacs 'Ohana, the Kanaka'ola 'Ohana, Krash Kealoha (Victor Ho'onani 'ōpiopio), Skylark Rossetti, Kimo Kahoano, Karen Keawehawai'i, Melveen Leed and Israel Kamakawiwo'ole.
May 19 is the big event – the 41st Annual Nā Hōkū Hanohano Awards, often referred to as the Hawaiian Grammys. Keauhou, the trio who took home awards in nine categories in 2017 for their first album, received nine nominations in eight categories for their second album, "I Ke Ko A Ke Ao." Nāpua Greig, fresh off a stellar Merrie Monarch week, also received nine nominations in eight categories for her album "Makawalu," which she recorded as Nāpua.
Keauhou and Nāpua will be competing against Ho'okena, Kapena and Kukona for album of the year. Keauhou is also a group of the year finalist, along with Ho'okena, Kahulani, Kapena and duo Bryan Tolentino & Herb Ohta Jr. There are 36 categories total, including two new categories honoring the year's best metal album and music video.
The Mele Mei concert series features many of Hawai'i's celebrated musicians at venues such as Outrigger Waikīkī's Kani Ka Pila Grille, Halekulani's House Without a Key, at the Lahaina Banyan Tree on Maui, the Historic Waimea Theatre on Kaua'i and Kahilu Theatre on Hawai'i Island. Confirmed performers include Wendell Kekauoha, Amy Hanaiali'i, Josh Tatofi, Brother Noland, Mailani Makainai, Maunalua and Kūpaoa.
Two concerts will be part of the 2018 Honolulu Ekiden & Music Festival. A concert at the Waikīkī Shell on May 19 will feature Kalapana, Mana'o Company and Hō'aikane. On May 20, Simple Souls, Uheuhene, Maunalua and Manoa DNA perform at Kapi'olani Park Bandstand.
Visit www.melemei.com for more information, including the full list of Nā Hōkū Hanohano finalists and ticket information, as well as the Mele Mei concert series calendar. The Office of Hawaiian Affairs is a Mele Mei sponsor.
41th Annual Nā Hōkū Hanohano Awards
May 19 at the Hawai'i Convention Center
3:30 to 6 p.m.: Registration
4 p.m.: No-host cocktails
5 p.m.: Doors open
5:15 p.m.: Dinner and awards show
Tickets: $175 general admission, with discounts for current HARA members and kama'āina and $250 premium seating. (Tickets to the Nā Hōkū Hanohano After Party starting at 10 p.m. are $65 and include two drinks and pupu.)
Information: www.nahokuhanohano.org/tickets-2018