O ka makua ke koʻo o ka hale e paʻa ai
The parent is the support that holds the household together
Caring for our ʻohana is an important kuleana. Parenting keiki is an investment in the future. It is basic and foundational. Healthy families lead to a healthy lāhui. So when parents cannot mālama their keiki properly, it is important to have a safety net. This is a moʻolelo about two families, the Osorio ʻohana and the Keola ʻohana, who have expanded to embrace keiki not born to them. These parents are connected to these keiki, not by their blood, but by their hearts. Neither the Keolas nor the Osorios planned to become foster parents. When they got involved, the Keolas already had three children, and the Osorios had four; both fairly large families by today's standards. Here are their stories.
Ka ʻOhana Osorio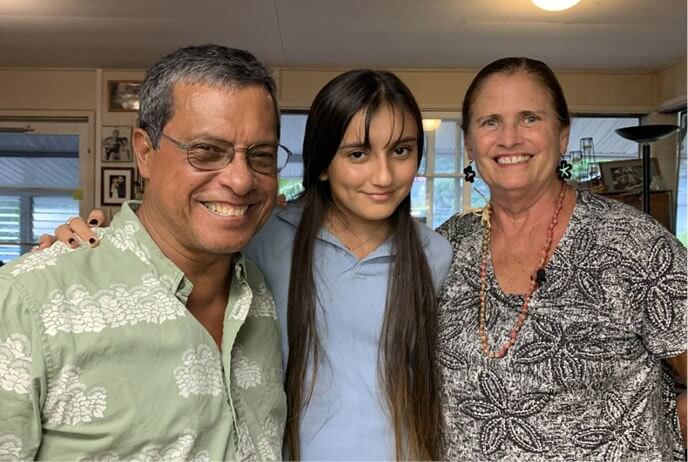 The Osorios talked about fostering but the idea was quickly dismissed by worries about having enough money or room, or how their young children would be affected. But one day Mary Osorio got a call from a friend. A baby girl needed temporary foster care – just three weeks – and could Mary help find a home for that child. As it happens, Mary was leaving her current job with nothing new lined up. The whole family discussed the situation and decided they could care for the baby for three weeks – no problem.
With the goal of reunification, the Osorios were working with DHS and the family to get baby Lehua back to her parents. But drugs were involved and the birth mother soon relinquished her parental rights asking the Osorios to adopt her baby. This surprised them; they never intended to adopt – but after discussing it they agreed. "The longer she was with us, the more difficult it was to even consider separation," said Jon.
But Lehua's biological father wanted his mother to raise the baby. Working with the Osorios over the next two years, the father formed a trust bond with Jon and at the final custody hearing, the father relinquished his rights. "It's important to work with the birth family in a healthy way," said Mary. "Sometimes it's hard. Our situation was full of drama, but it was the right thing to do."
Those two years were full of uncertainty. The Osorios and their birth children had fallen in love with baby Lehua but knew she might not stay. But when Lehua was 2-1/2, the Osorios adopted her. "We had 40 people crammed into the courtroom. Jon had his guitar, we sang the doxology and our pastor did a blessing," recalls Mary. "It was a community event."
Community has been key to raising Lehua. Her birth mother used drugs during her pregnancy, and that had consequences. But support from the Osorios' personal network along with social workers and public health nurses, and resources from public and private agencies, made all the difference. "The IEP is your best friend in the public schools," noted Jon. Over the years, the Osorios carefully selected schools, obtained the health services she needed, and poured their love into Lehua, now 16, who is thriving.
"I cannot imagine life without her," reflects Mary. "I don't know what she's going to do with her life, but she will do it with solid security and love from people who believe in her. She's this wonderful, joyous success story. It was so worth it to take the chance."
"When Mary first told me about Lehua I didn't know if I was ready," recalls Jon. We already had young children, my career was taking off, and I was about to take a sabbatical. And then Mary said, ʻshe's Hawaiian.'"
"You know, it was like taking in family; a part of our family that maybe we'd forgotten that we're related to. When I see all of my children together, completely one family…the teasing and the affection…you would never know they came from different parents. There's nothing quite like that," smiles Jon.
"It feels good to give a Hawaiian child Hawaiian cultural experiences and raise her with Hawaiian values," Mary adds. "Hawaiian foster children don't just need us – they need the Hawaiian community. It's kuleana, absolutely."
The Osorios say becoming a foster family was one of the most important things they did for their biological children because it taught them the importance of caring for others. Photos above include a wall sign made years ago by daughter, Haliʻa, which still adorns the girls' room today, and a few examples of Lehua's art. – Photos: Courtesy
Ka ʻOhana Keola
One day the Keolas saw an announcement in their church bulletin. Catholic Charities needed foster families to care for pregnant teens. They talked about it, but Kauʻi was teaching full time and president of a non-profit. With three keiki of their own, there just wasn't time to help. Fast forward two years. Kauʻi was now teaching part-time when the same announcement appeared in the church bulletin. This time the Keolas decided to try. Kauʻi felt confident she could teach these girls how to take care of babies, help them make transition plans for after the baby was born, and then they would move on.
A few years into fostering, one of the pregnant teens they were working with already knew she wanted to give her baby up for adoption. When he was born, the baby boy was placed with the Keolas. It was only supposed to be for a week, but four months later the baby, who they had named Keolanui, was still with them, and so they decided to adopt. With this decision the Keolas began an unexpected journey.
Soon afterwards, the Keolas transferred their licensing from Catholic Charities to DHS, shifting their focus from pregnant teens to newborns. In their first five years of fostering, the Keolas cared for more than 80 babies. Then in 2008 they became foster parents to Kuʻumele. But when she was just six weeks old, her mother could not commit to parenting. So the Keolas decided to adopt Kuʻumele as well.
Shortly after that, another newborn and her brother were placed with the Keolas, but their mother also relinquished her parental rights. So the Keolas adopted them – and their three siblings who were in other foster homes. And when Kuʻumele's mother had more babies, the Keolas adopted them too. By 2018, the Keolas had adopted 12 children. "It's all about family for us," explained Kauʻi. "Not just our own. We want to keep the biological families of our adopted children together."
The Keolas never imagined they would have 15 children and it has transformed their lives. Their days are a whirl of activity beginning at 5:30 am to get 12 keiki to five different schools. While the children are in school Kauʻi starts the laundry and husband, Rocco (temporarily on leave from his job), handles other chores including cooking dinner. Afternoons are a blur of school pick-ups and extra-curricular activities. When the children get home, there's sharing and snacks and then 20 minutes of reading before dinner. "People always think its chaos," laughs Kauʻi. "To me it's exciting and fun." The Keolas eat together and share the day's highs and low. Then it's pule, showers and if all goes according to schedule, everyone is in bed by 8:30.
All 12 of their hānai keiki were drug-positive babies, but the Keolas have availed themselves of all the resources and professional help available to them. "Our goal is to raise independent, responsible, contributing members of society," said Kauʻi. "We want them to have good lives. They are all blessings. They all have strengths."
"Fostering has changed our lives in such a positive way," continued Kauʻi. "We're having fun. It was never the plan, but I don't make plans anymore because God has a plan. We'll stop fostering when God doesn't send any more children to our door."
The Keolas firmly believe that it is their kuleana, as Hawaiians, to care for these children. "Our native people need to take care of our own keiki…as a lāhui that is our kuleana," Kauʻi insists. "we cannot put that kuleana on anyone else. We need to be the ones to do it."
Living together in their modest three-bedroom home, the Keolas manage to make it work. "We don't have a lot of things," Kauʻi reflects. "We don't have a lot of space. But we have a lot of love. Love is abundant. And that's what we can share."