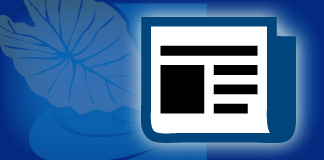 This year will give us many occasions to pause and refl ect on the turbulent times our people have endured. January 17 alone will offer a powerful reminder as we commemorate 125 years since the illegal overthrow of the Hawaiian Kingdom, when our Queen Lili'uokalani was forced to abdicate the throne. Over the past few decades, we've made progress in revitalizing our culture and improving the well-being of our people, but there's still much more that must be reconciled. Forty years ago, the Office of Hawaiian Affairs was established to address the past wrongs our people have suffered, but four decades later we have only started to move the needle.
Delegates to the 1978 Constitutional Convention created OHA as a public trust to help correct the two centuries of generational trauma suffered by Hawaiians since Captain Cook's arrival. This monumental mandate was to be funded by a pro rata share of revenue from a portion of the crown and government lands "ceded" to the federal government without compensation 120 years ago. These lands include our airports, harbors and other lands used for public purposes. By law, Native Hawaiians are entitled to 20 percent of the revenue generated on these ceded, "public land trust" lands. However, as many of you are aware, we've been unable to collect all that's due. For over a decade, our annual PLT revenue has been "temporarily" capped at $15.1 million, even though the State's own accounting indicates 20 percent of the PLT revenue would have been more than twice that in recent fiscal years.
This isn't just a social justice issue. It's about doing what is fair and pono, and doing right by our people and communities. To provide context, PLT revenue is the primary source of funding for OHA's grants program, which since 2010 has awarded more than $90 million to nonprofit organizations. These community grantees offer direct services and culture-based programs aimed at improving health and preventing chronic disease, supporting traditional 'āina-based practices and improving education outcomes, particularly for middle-schoolers. OHA also provides funding that broadens access to postsecondary education and prepares benefi ciaries for homeownership. Simply put, we'd like to help more Hawaiians move up the socioeconomic ladder into skilled jobs with better wages.
Receiving our full share of PLT revenue would allow us to better meet the demand of qualifi ed grant and scholarship applicants. It could also enable us to invest in social entrepreneurs who have greater leverage to affect change in our communities, for the good of all, not just Hawaiians. By the end of 2018, when we close out our current strategic plan, we'll have a comprehensive inventory and accounting of OHA's efforts since 2010 with the limited resources we have now. These results will provide a foundation to build on as we continue striving to improve the well-being of our benefi ciaries.
It's time to galvanize our collective mana and unify communities throughout the state in support of equity in Hawai'i for its aboriginal peoples.