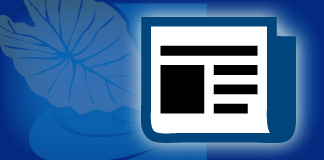 Aloha mai kākou,
The year's end is always a good time to pause and reflect on the things we did well, along with the things we want to do better in the year to come. I'm proud to report that even in a year beset with challenges, the Office of Hawaiian Affairs has reinforced the foundation of our hale and made significant progress toward improving the lives of our people.
Some of our beneficiaries have felt this directly in the form of college scholarships and business loans that open doors to better economic opportunities. Hawaiian-focused charter schools will be receiving $3 million from OHA over the next two years so our keiki can learn in culture-rich environments.
Our advocacy for Native Hawaiians continues at every level of government. In February, OHA was officially elevated to co-trustee status at Papahānaumokuākea Marine National Monument, on par with the state and two federal agencies. That gives Hawaiians a voice in high-level decision-making regarding management of our kūpuna islands.
Longstanding concerns over mismanagement of Mauna Kea – and a nearly two-year mediation process that yielded no solutions – led us to file a lawsuit against the state and the University of Hawaiʻi in November. Both the governor and UH have acknowledged they've failed the mauna; we want to hold them accountable for their legal obligations to our sacred mountain.
We've made great strides in managing our own commercial and legacy lands, particularly Wao Kele o Puna, OHA's 25,856-acre property on Hawaiʻi Island. Working with the community, we finalized a comprehen- sive management plan to care for the lowland rainforest that has provided for our people for generations.
In June, OHA published Kānehōʻalani: Transforming the Health of Native Hawaiian Men, a 45-page report on the health status of our kāne. Last month, we published OHA's first book, Mana Lāhui Kānaka, a framework for incorporating mana in the 21st century. Both publications make relevant data accessible to our people as we work to find our own solutions, within our own communities.
In October, I was honored to be part of a group of Native Hawaiian cultural practitioners who traveled to the Museum of Ethnology Dresden in Germany to bring home four iwi kūpuna who had been stolen from burial caves more than a century ago. I applaud the Saxony government and museum officials for their compassion and hope their courage inspires further reconciliation and spiritual healing with native and indigenous peoples across the globe.
In addition to providing opportunities for our beneficiaries to practice their culture, we've also taken time to celebrate and honor exceptional kūpuna for revitalizing cultural practices and maintaining our traditions. OHA marked King Kamehameha's birthday this year with its first Nā Mamo Makamae o Ka Poʻe Hawaiʻi: Living Treasures of the Hawaiian People ceremony, which recognized five living master practitioners and honored two posthumously.
Looking ahead, we'll continue implementing our fiscal sustainability plan so we can support our beneficiaries while living within our means. We'll also keep working with the state and community to ensure Native Hawaiians receive their fair share of revenue from the Public Land Trust, the main funding source for our beneficiary programs and services. A temporary $15.1 million cap established a decade ago no longer reflects Native Hawaiians' 20 percent share of the Public Land Trust. The state's reports show it has generated an average of $173 million annually in Public Land Trust revenue the past three fiscal years. Twenty percent of that is approximately $34.6 million a year, more than twice what OHA currently receives. As we head into 2018, this issue will be a priority for us and a key to shoring up the foundation of our hale and long-term stability of this agency.