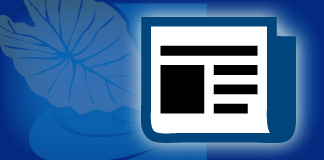 Aloha mai kākou,
These are times of change for our lā hui, for our 'ā ina, and for the Office of Hawaiian Affairs. But I'm confident that we can weather it. There are times when our faith and steadfastness allows us to be like limu in the tide. We can adjust, we can roll with the currents, but we're not pulled off the rock, our foundation.
Amid these strong waves, pule is a powerful force that our people have long used to ground ourselves and strengthen our work. At our June board meeting Chair Machado opened the hālāwai with a pule for the kia'i on Mauna Kea. I appreciate the power of her words.
Our people endure many challenges. Our 'ohana on Hawai'i Island or Kaua'i have labored for the last year to rebuild their communities following last year's environmental catastrophes. In this issue we look at some of these efforts on Kaua'i, and the ways in which our rediscovered ancient knowledge and practices are providing a renewed source of sustainability within the context of climate crisis to persist, grow and thrive in our homeland.
2019 is an important transitional point for OHA; it's a bridge between the previous strategic plan and a new plan for 2020 and beyond.
A key consideration for our new plan will be to integrate the various objectives into a holistic vision for a thriving lā hui. For example, it's not enough to shelter a family in permanent housing if the conditions in permanent housing do not strengthen our families and communities.
Our work in the last decade has been beneficiary-focused, research-informed and advocacy-led, which has allowed the various strands of our work to be responsive to the needs of our community. This is an approach that we hope will continue throughout our community-based advocacy and policy work. We are also making changes within our organization in order to carry on this good work, and evolve to meet the changing needs of our lā hui. OHA as an organization is committed to being the mechanism our beneficiaries and lā hui require and deserve. We are committed to weave our work together to ho'oulu lā hui aloha, to raise a beloved lā hui.
Sylvia Hussey, Ed.D.
Ka Pouhana/Interim Chief Executive Officer
Ka Pou Nui/Chief Operating Officer