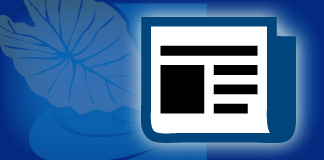 Aloha mai kākou,
The Office of Hawaiian Affairs has navigated turbulent waters over the past year, but we now have a chance to pick ourselves up, dry ourselves off and start charting a new course for 2019 and beyond.
Voters elected two new trustees to OHA's board last month: I welcome Kalei Akaka, who will represent O'ahu, and Brendon Kalei'āina Lee, who will fill an at-large seat. I also extend congratulations to the returning trustees who won their re-election bids: Carmen "Hulu" Lindsey of Maui and at-large trustees Lei Ahu Isa and John Waihe'e IV.
Our new Board will guide the agency through an upcoming journey that will include exciting opportunities to serve our Lāhui. 2019 will begin with OHA considering the release of critical financial resources into the Native Hawaiian community. In November, OHA closed the application period for our pilot Kūlia Grants Program. We will be reviewing and vetting the overwhelming number of applications, and we look forward to bringing those to our new board for consideration. In addition, we just launched our new Community Grants Program solicitations. This is the agency's primary grants program, used to distribute larger funding awards to non-profit organizations providing critical services to the Native Hawaiian community. It only happens every two years, but some of our most rewarding stories of how we change the individual lives of our beneficiaries come from this funding source.
For example, the inspirational story of the Josue 'ohana going from homelessness to home ownership featured in last month's Ka Wai Ola is the result of one of our Community Grant Program Housing Awards. In Hāna, a health grant aimed at reducing obesity supports a community farm that provides fresh produce for the remote East Maui community, and a high school program that improves living conditions for kūpuna by building cottages and adding accessibility improvements to existing homes. 'Āina grants, meanwhile, fund restoration projects on Hawai'i Island, Kaua'i, Maui, Moloka'i and O'ahu.
OHA's journey ahead will also include some heavy kuleana, as trustees and the agency as a whole need to continue to review and amend our internal fiscal policies to respond to the recent state audits.
Our new board will also need to set a course for the agency for the next few years as the agency develops a new Strategic Plan. The foundational steps of this process have already begun, and we look forward to working with our new trustees on longer-term deliberations for the agency.
'O au iho nō me ke aloha a me ka 'oia'i'o,
Kamana'opono M. Crabbe, Ph.D.
Ka Pouhana/Chief Executive Officer