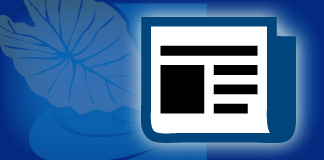 Aloha mai kākou,
It's refreshing to see a sustained run of good news stories about the Native Hawaiian community and the Office of Hawaiian Affairs.
It began in December, when a hui of Native Hawaiian entities, including OHA, pulled together to get behind the Aikau family to bring back The Eddie Big Wave Invitational. It continued when OHA trustees unanimously voted for Board leadership, with Trustee Colette Machado continuing as chair. That spirit of lōkahi among board members prevailed throughout the next day's OHA Investiture Ceremony, which welcomed all of our newly sworn-in trustees, including two new faces in Trustee Kalei Akaka and Trustee Kalei'āina Lee and three re-elected incumbents in Trustee Hulu Lindsey, Trustee John Waihe'e IV and Trustee Leina'ala Ahu Isa.
To close out December, hundreds of consumers descended onto Nā Lama Kukui on Nimitz for OHA's Second Annual Pop-Up Holiday Mākeke, where they were able to make last-minute Christmas purchases of Native Hawaiian crafts, art, fashion and food. Through the mākeke, OHA furthers the economic self-sufficiency of our community by supporting Native Hawaiian-owned business. But the mākeke also helps to advance our cultural identity as a people. It provides Native Hawaiians the opportunity to find clothes and accessories that are rooted in our traditions that allow us to express our Hawaiianness in new spaces – not just at the lo'i or in the fishpond, but also at the movies, the gym and the diner. The mākeke is an important service we provide our Lāhui that requires tremendous coordination and effort among our staff and our community.
Also during this period, several Native Hawaiian surfers and mixed martial art fighters also notched huge victories for themselves and for our Lāhui. Carissa Moore won the Beachwaver Maui Pro at Honolua Bay, and Ezekiel Lau won the Vans World Cup of Surfing at Sunset Beach. Meanwhile, Max Holloway defeated Brian Ortega to retain his UFC featherweight title, and 'Ilima-Lei McFarlane defeated Valerie Letourneau at the Blaisdell Center to retain her Bellator flyweight title.
Common themes throughout these stories was lōkahi and laulima. When we put our differences aside and come together and collaborate for a shared goal – whether it's putting on a holiday mākeke or training to win a surf contest – we ensure that the only story to report on is our success. With the substantial amount of work we at OHA have to do on behalf of our beneficiaries, hopefully we can continue to embrace these themes and carry this run of positive news into the new year.
Kamana'opono M. Crabbe, Ph.D.
Ka Pouhana/Chief Executive Officer