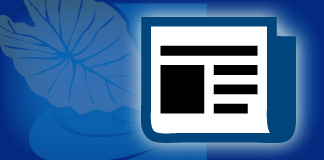 Aloha mai kākou,
The flash floods that devastated communities along Kaua'i's north shore in April came fast and furious, but recovering and rebuilding is a slow process.
The Office of Hawaiian Affairs responded soon after the flooding by donating fuel requested by beneficiaries leading the extensive clean-up efforts. In May, OHA's Board of Trustees approved $200,000 in disaster relief assistance for Kaua'i households and $50,000 for kalo farmers. We've been able to help more than 150 Hawaiian 'ohana meet some of their urgent needs since we began disbursing checks in June. More aid and outreach will follow as OHA works with impacted communities to identify long-term solutions.
Now OHA is stepping up to the plate to help Hawaiian 'ohana who have been coping with an ongoing eruption on Hawai'i Island since early May. As of publication, Tūtū Pele and the lava flow have taken more than 700 structures, destroyed crops and claimed a charter school campus, and there's still no end in sight.
OHA is collaborating with the Neighborhood Place of Puna, the piko of the community, which has relationships with Puna residents, as well as developers, social service providers and non-profits. Together, we can identify where OHA's contributions can be most effective. Like Kaua'i, Puna 'ohana are facing short-term needs, but also need help with long-term recovery. We're especially concerned about students in Puna, as well as in Ka'ū, where schools are coping with ashfall and air quality issues because of the activity at Halemaumau crater.
I'm proud of the way our community engagement and outreach staff are working on relief efforts with stakeholders from Puna beneficiaries and Mayor Harry Kim to Hawaiian-serving organizations and ali'i trusts. As lava continues to flow through residential and agricultural areas of Puna, we hope more community members will share their mana'o on how to best redevelop the area and promote economic sustainability.
OHA may not be a disaster relief agency or a social service provider but as an agency dedicated to uplifting Hawaiians, it is our kuleana to help our beneficiaries through these challenges. We were relieved to hear the state Office of Elections is making it easier for displaced Puna residents to vote in the primary election, which includes tight Democratic contests for governor, lieutenant governor and Congressional District 1, as well as five seats on OHA's board. Candidates who win election will have a say in how the Puna community moves forward, as well as Hawai'i as a whole, so it's important for your votes to be counted.
More to the point, it's important that Hawaiian voices be counted, so exercise your right to choose representation that empowers Hawaiians to make a better Hawai'i.
History has shown that when Hawaiians vote they can effect change. But if Hawaiians don't vote, we may not be given a seat at the table and our voices may not be included in high-level policy discussions. If you want to ensure Hawaiians are heard, you know what to do on Aug. 11: VOTE!
'O au iho nō me ke aloha a me ka 'oia'i'o,
Kamana'opono M. Crabbe, Ph.D.
Ka Pouhana/Chief Executive Officer