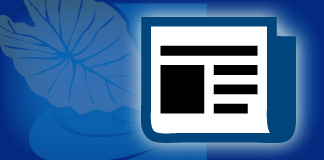 Aloha mai kākou,
I want to briefly acknowledge the incident that occurred last month when a group of men forced their way into the lobby of OHA's Honolulu office, assaulted two staff members and verbally harassed and threatened others.
While Native Hawaiians today hold differing opinions on many issues, we must all agree that there is no place for violence in our community. A cause that embraces violence is really just violence masquerading as a cause, and it must be roundly condemned.
OHA continues to work with various law enforcement entities to increase security measures to protect OHA staff, beneficiaries, visitors and building tenants. Our primary goal is to ensure everyone's safety as we get past this unfortunate incident and move forward with furthering the socio-economic and cultural needs of our beneficiaries.
With that in mind, this month our Lāhui recognizes a special cultural recurrence: Mahina 'Ōlelo Hawai'i. While we perpetuate our native tongue every day, the Native Hawaiian community pushed for a state law designating February as a time to especially celebrate and encourage the use of the Hawaiian language.
It's also a time to reflect on the progress our community has made in saving a language that many in the 1980s thought would be extinct today.
In 1983, fewer than 50 individuals under the age of 18 could speak Hawaiian fluently, leading to the belief that those 'ōpio and keiki could represent the last generation of native speakers. But today, that number has grown to 5,000 thanks in large part to our Hawaiian language immersion schools. Further, the 2013 U.S. Census identified 26,205 Hawaiian speakers across all age groups, and in 2016 the state found that 'ōlelo is the most used non-English language in homes in Hawai'i County.
This is a major success we hope to share with the world as the United Nations celebrates 2019 as the International Year of Indigenous Languages. According to the UN Permanent Forum on Indigenous Issues, no less than 40 percent of the estimated 6,700 languages spoken in the world are in danger of disappearing – many of which are indigenous languages.
Like many cultures around the world, Native Hawaiians have always been acutely aware that if our native tongue died, so too would we as a people. No one seem to know this more than Princess Ruth Ke'elikōlani, who is celebrated in this Mahina 'Ōlelo Hawai'i issue of Ka Wai Ola. She chose to navigate her world, which was quickly being changed by western influences, by holding on tighter to her traditions. Her strident insistence on only speaking 'Ōlelo has made her an inspiration for the Hawaiian language revitalization movement today.
With all the negative news and our poor socio-economic statistics, successes for our community can seem rare. That's why our successes should be celebrated to provide us hope.
Yes, 26,205 native speakers is just a small fraction of the more than 500,000 members of the Native Hawaiian community. We know we have much work to do. But at the same time, 5,000 native youth who can speak the language of our kupuna today is a hundred times more than existed just 36 years ago, and according to the state, more youth speak Hawaiian than any other single language in Hawai'i.
So let's take time this month to appreciate this undeniable success story for our Lāhui, and find a friend or a family member and 'Ōlelo Hawai'i.
'O au iho nō me ke aloha a me ka 'oia'i'o,
Kamana'opono M. Crabbe, Ph.D.
Ka Pouhana/Chief Executive Officer