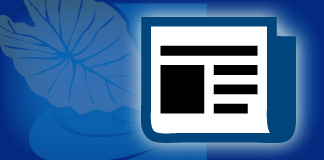 For the last 40 years, the Office of Hawaiian Affairs has produced the Ka Wai Ola newspaper, dedicated to covering the stories, people and events in our Native Hawaiian community and sharing the work OHA does in service to the Lāhui. OHA is excited to announce that our efforts to share high quality storytelling with indigenous grounding has been recognized by the Native American Journalists Association (NAJA). OHA was notified by NAJA that it won two awards for outstanding storytelling and graphic layout.
Ho'omaika'i to OHA Public Information Officer Sterling Wong whose housing story "Leading Them Home" received an Honorable Mention in the Best Print Feature Story category. Additionally, Nelson Gaspar and Kaleena Patcho's graphic design work for Ka Wai Ola was awarded Second Place in the Best Print Layout category.
Both awards were in a category for publications with a circulation of more than 10,000. A full list of winners is available on the NAJA website, https://najanewsroom.com.
"Ka Wai Ola is in good company with these award winning indigenous media outlets," said Alice Silbanuz, Digital and Print Media Manager. "The recognition is encouraging as we work to expand the reach of Ka Wai Ola."