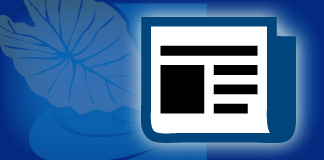 Flood victims on Kaua'i were top of mind at the Office of Hawaiian Affairs Board of Trustees Resource Management Committee meeting on April 18, days after 28.1 inches of rainfall in a 24-hour period devastated the island's north shore.
Trustee Dan Ahuna (Kaua'i and Ni'ihau) read statements from various OHA beneficiaries affected by the flooding on Kaua'i, leading to a discussion among trustees about providing immediate assistance to those in dire need of supplies.
"The people in North Kaua'i need help now, they are in survival mode. They are asking us for fuel at the moment, but we also want to see what type of long-term help they will need," Ahuna said.
As a result of the trustees' discussion, the administration will be releasing funds for the purchase of fuel. OHA will be working with Kaua'i based non-profit, Nā Pali Coast 'Ohana, to purchase diesel, gasoline and propane to distribute to families in North Kaua'i. Trustee Dan Ahuna has been traveling to the area to assist with the distribution, as well as meeting with various residents to assess the needs to determine how OHA can further assist in the coming weeks and months.
"We understand that Kaua'i residents have been devastated by the flooding and we want to provide immediate help with fuel. Our board will continue the discussion on the emergency relief efforts at our next committee meeting (held) on April 25th where we anticipate a report from Trustee Ahuna on what is taking place on the ground and how OHA can help," added Maui Trustee Hulu Lindsey.