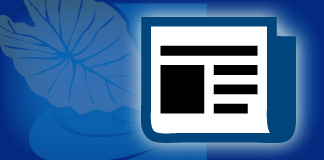 Hui Mālama o Mo'omomi – Moloka'i
Led by master lawai'a (fisher) Kelson "Mac" Poepoe, this grassroots hui has worked for over two decades to mālama the nearshore fisheries of Mo'omomi, Moloka'i. Their efforts seek to maintain subsistence as a viable component of Moloka'i's fluctuating economy and to encourage young Hawaiians to learn and perpetuate traditional fishing practices. Hui activities include long-term resource monitoring, developing sustainable harvest guidelines and addressing mauka land management issues, among others.
A recognized role model for many like-minded groups in Hawai'i, Hui Mālama o Mo'omomi inspired the formation of E Alu Pū, a network of Native Hawaiian subsistence communities seeking to steward their nearshore waters. The Hui's work also led to the adoption of a state law authorizing community-based subsistence fishing areas (CBSFAs), where a community's knowledge of local resources can inform harvesting regulations and perpetuate Native Hawaiian traditional and customary fishing practices. The Hui's own rule package proposal for the Northwest Coast of Moloka'i CBSFA is currently awaiting Governor Ige's approval to proceed to public hearings.
Hui Maka'āinana o Makana– Kaua'i
The Hui Maka'āinana o Makana, whose members include lineal descendents of Hā'ena and surrounding ahupua'a in Halele'a, Kaua'i, has endeavored for two decades to practice and perpetuate Hawaiian culture through ahupua'a-based resource management in Hā'ena. Under the leadership of Presley Wann and Keli'i Alapai since 2012, the Hui worked with the state as well as divers, fishers, surfers, ocean tourism businesses and others to successfully implement the first permanent CBSFA regulations in 2015, a "watershed" moment for fisheries management in Hawai'i. The Hui also partners with the county and state to restore and cultivate historical lo'i kalo and protect family burials and sacred sites on public lands, and is currently working on the implementation of a community-developed management plan to address the impacts of tourism and overuse on Kaua'i's north shore.