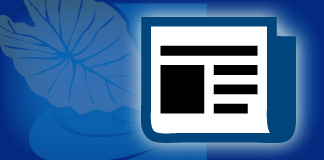 OHA grantees are affecting positive change in our strategic priority areas of health, housing, education, culture, and economic self-sufficiency throughout the pae ʻāina. A total of $6 million in OHA funding will support 23 projects to benefit Native Hawaiians in fiscal years 2018 and 2019. Below are highlights from two of OHA's health grantees that are helping the Native Hawaiian community strive for better health through long term lifestyle changes.
To see a full list of OHA funded grant projects for FY18-19 that are working to strengthen the Native Hawaiian community and the community at large, please visit www.oha.org/ohagrantees.
The Queen's Hospital
Ma Ka Hana Ka ʻIke, Hana Ola Project
The Hana Ola Project, is a partnership between Ma Ka Hana Ka 'Ike and The Queen's Medical Center to reduce the burden of obesity and other cardiovascular disease risk factors among Native Hawaiians in Hāna, Maui. Hana Ola is building community capacity to revitalize health, nutrition and wellbeing through education, physical activity and culturally relevant, community-based programs including lo'i restoration, organic agriculture, kūpuna assisted living, and ku'i (the cultural practice of pounding kalo or taro into pa'i 'ai and poi).
The Hana Ola Project is based on evidence that community engagement in culturally grounded activities that incorporate traditional values and social connectedness positively impact health and well-being. "At Ma Ka Hana Ka 'Ike, we have observed real change in Hāna's health over the years through our partnership with OHA and The Queen's Medical Center," said Rick Rutiz, Executive Director of the nonprofit organization. "Changes like keiki falling in love with eating real food to high school students and community members revitalizing their 'āina-based lifestyles to reconnect with their culture and simultaneously build a healthy community. We believe that by addressing the issue of health and wellbeing in a holistic way we are making systemic change. We are grateful for OHA's support to impact health in this way in our community."
"Our collaboration with Ma Ka Hana Ka 'Ike, a trusted and successful non-profit in Hāna, helps us work more effectively on our shared goal of building community resilience and improving the health of Native Hawaiians throughout the state," said Todd Seto, M.D., QMC Co-Director Hana Ola Project.
---
Kualapuʻu Public Conversion Charter School
Project Pūʻolu
OHA Grantee Project Pūʻolu is a school-based, childhood obesity prevention and treatment program that operates at the Kualapuʻu Public Conversion Charter School on the island of Molokaʻi. Currently the project serves 320 students in grades K-6 (283, or 88 percent are Native Hawaiian). The goal of the project is to improve the health of students, families, and the community through an evidence-based approach that engages students and their families in regular physical activity and healthier eating that positively impacts student learning.
Survey data shows that (1) 90 percent of the student respondents said they like having Physical Education classes every day; and (2) students are eating more fruits and vegetables and fewer sugar sweetened beverages. This data shows a positive trend in affecting students' attitudes and behaviors toward healthy lifestyle choices. Assessments also show a reduction in students' average body mass index (BMI).
Screening services are also available to the students through the OHA grant. With the help of a community volunteer, 211 students recently participated in vision screening; 11 were deemed in need of glasses.