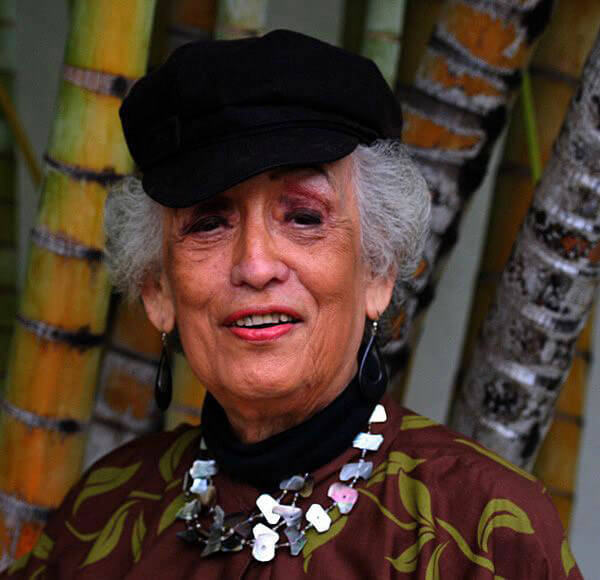 Elizabeth "Betty" Kawohiokalani Ellis Jenkins
Feb. 11, 1928 – April 30, 2022
The earthly life journey of Elizabeth "Betty" Kawohiokalani Ellis Jenkins ended with her entry into heaven on April 30, 2022.
Known as "Aunty Betty" she lived a full and extraordinary life. She was a hulu kupuna, a respected Hawaiian elder, a retired educator, a community participant, and an advocate of kūpuna knowledge, wisdom, and Hawaiian cultural values.
Aunty Betty was a mentor to many and a teacher to everyone. She was a master educator who developed a profound method of instruction through shared cultural understanding of a code of ethics she called the "4Bs" – Believe, Behave, Become and Belong.
She developed, coordinated, and produced cultural awareness sensitivity workshops with the help of many friends, retired DOE educators, and other kūpuna to groups locally and nationally.
Recognizing and emphasizing the importance of Hawaiian language, tradition, history, and values through teaching, modeling and mentorship, Aunty Betty captivated audiences with her ʻano – a connection to culture, nature, beauty, and spirit – from formal classroom settings to the most relaxed impromptu educational gathering to the transformation of a conference room with a purposeful Hawaiian sense of place.
Aunty Betty is the first born of a first born of a first born. Her names and place of birth on Hawaiʻi Island connect her lineage and culturally directed her being and paths. She understood and fully embraced being hiapo.
She graduated from Kamehameha Schools in 1945 and was the first student of color to attend Muskingum College (now Muskingum University) in Ohio. A retired elementary school teacher, she taught in Ohio, California, Micronesia and Hawaiʻi. She led and directed the Hālau o Haleʻiwa Hawaiian Studies Program at Haleʻiwa Elementary for eight years.
At Haleʻiwa Elementary, she implemented a new teaching program called "3-on-2" that combined two classrooms taught by three teachers. The May Day celebrations and programs at Haleʻiwa Elementary were legendary back then and fostered a profound sense of community pride. Haleʻiwa/Waialua keiki in the 1960s, 1970s and 1980s remembered being taught by Mrs. Jenkins.
At the Office of Hawaiian Affairs (OHA) she served as alakaʻi for the Kūpuna Team that offered workshops and presentations, represented OHA at various educational and cultural functions, and coordinated protocol for visiting Indigenous guests.
Their first project was initiated with the Department of Veterans Affairs and Department of Defense at Tripler Army Medical Center. She developed the Hoʻolauna Series, which focused on providing services and care to veterans and military personnel. It was highly successful and they were doing workshops locally and nationally, fielding requests from Hawaiian Civic Clubs and other Hawaiian organizations, along with state and federal agencies.
Aunty Betty was a guest of the Haudenosaunee Nation (Iroquois Confederacy), the only sovereign nation within the United States. There, she shared our Native Hawaiian culture and stories. From 2006-2015, she participated in the annual American Public Health Association (APHA) American Indian, Alaska Native, Native Hawaiian (AIANNH) Caucus' "Wisdom of the Elders" session, representing Native Hawaiian kūpuna.
She helped facilitate Tūtū's Hale – a place for mele, hula, storytelling, lei making, weaving and Hawaiian games – as part of Lei Day's Kūlana Lei exhibits and activities from 2009-2019.
During her lifetime, Aunty Betty received numerous awards and accolades, including an honorary doctorate from the World Indigenous Nations University, a Honpa Hongwanji Living Treasures Award, an Association of Hawaiian Civic Clubs Kukui Lama Kū Award, and a Hui of Hawaiian Royal Societies Aliʻi Kalani Award.
She was a member of the Royal Order of Kamehameha I, the ʻAhahui Kaʻahumanu, the Aliʻi Pauahi Hawaiian Civic Club, and served in 1985 as the Aloha Festivals Mōʻī Wahine and in 1986 as Vice-Chair of the Year of the Hawaiian celebration.
Her husband, Jack Jenkins, and parents Richmond Kaliko Ellis and Elizabeth Nalani Mersberg Spencer McMillan Ellis, preceded her to Heaven. She is survived by children Kimo Jenkins (Lucy Anna), Kaipo Jenkins, Nalani Jenkins (Tracy), and hānai son Kawika Au; niece Catherine Jenkins; moʻopuna Kalawaiʻa, Kawohionalani, Anuhea, Jordan, Kawehi, Michael, Kahaʻi, Pono, Aulani, Jane, Julie and Kona (who affectionally call her "Hine"); six great-grandchildren; caregivers Chickie, Babette, Lehua, Sai, Brenda, Jackson, Kukui, Mary, Liana, and Exxon, and numerous other ʻohana.
She gathered and connected everyone who knew her into a beautiful lei of Hawaiʻi Nei. She will be missed but never forgotten.
---
Funeral service on Saturday July 9, 2022 at Kawaiahaʻo Church. 10:30 a.m. – 12:00 p.m. greeting and visitation; 12:00 p.m. – 1:00 p.m. service.
Celebration of Life & Pāʻina to follow at Hawaiʻi Convention Center, Room #311 2:00 p.m. – 5:00 p.m.