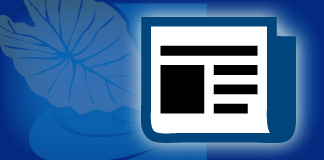 U.H. Mānoa's Department of Theatre and Dance presents the world premiere of 'Au'a 'la: Holding On, September 27, 28, and October 4, 5, at 7:30 p.m., and on October 6 at 2:00 p.m. at the Kennedy Theatre. 'Au'a 'la: Holding On is an account of Hawai'i's past from the perspective of four UHM haumāna whose research on a class project takes them to the repository of 19th century Hawaiian language archival materials. There, they are transported back in time to pivotal moments in Hawai'i's history. The script uses source materials, including newspaper accounts and correspondence. Many of the cast members are Kānaka Maoli and the play is presented primarily in 'ōlelo Hawai'i.
Kumu Tammy Hailiopua Baker, Director of the Hawaiian Theatre Program at UHM, is the playwright and director, and she has assembled collaborators from the Hawaiian community to bring the play to life. As in real life, the four main characters all have different connections with their heritage. Some are grounded in the culture, while others are just discovering their "Hawaiian-ness." Baker hopes the audience will be enlightened, saying "you seldom to hear the history of Kānaka Maoli from the perspective of Kānaka Maoli, and this play offers just that."
This is the Hawaiian Theatre Program's second mainstage Hana Keaka production. The previous offering was Lā'ieikawai in 2015. Tickets to 'Au'a 'la: Holding On are on sale online at etickethawaii.com, by phone at (808) 944-2697, and at official outlets. Sales at Kennedy Theatre's Box Office begin September 23, 2019.