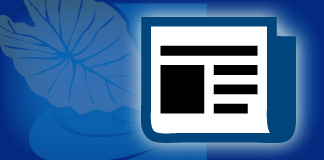 Over the course of several weeks, an idea sparked by a single Hawaiian woman led to one of the largest demonstrations in our history, with nary a major organization or advertising campaign behind it. The Kūkahi: Together We Rise march on October 5, 2019, was driven simply by the desire for the lāhui to hui pū, to gather together.
The march itself was beautiful; an expression of unity and solidarity from throughout the Pacific. Delegations from Tonga, Samoa, Tahiti, Fiji, the Federated States of Micronesia, and even the local Okinawan community joined in the march. Leiala Cook and Faith Kalamau led a group of pāʻū riders carrying flags. Charter schools and dozens of grassroots organizations came out. At one point, Ala Moana Boulevard and Kalākaua were completely filled with marchers, reminiscent of the moʻolelo describing the way Kamehameha's war canoes spanned the strait between islands, bow to stern. At the march, hundreds signed up in person, or online at lahui.org, to get more involved.
And the power of the day was not limited to Oʻahu-a-Lua. On every major island, and even in Japan, thousands gathered at the same time. The coordinated action culminated in a joint ceremony, timed to coincide with the 5:30 protocol at Puʻuhuluhulu.
I have been active in our Hawaiian sovereignty movement since I was a high school senior 23 years ago. My first community action was the Sunset meeting for the Hawaiian Sovereignty Elections Commission in November 1996 at the Blaisdell Arena. That meeting was marked by incredible division; each group had its leader, and the leaders largely were in disagreement with how to proceed with an election process. The entire room was divided; our movement was divided.
A quarter-century later the feeling is very different. The gathering at Kapiʻolani Park was not factional or leader-driven. Rather, it was our neighbors and family members, people from throughout the island, who came on their own to get involved. As a result of the incredible workshops held throughout the paeʻāina, many more people are able to participate in cultural ceremonies, so the movement is more democratic and community-driven.
What does it mean for this action to take shape organically, as a manifestation of our pride and desire for change? I believe that it means that we are living in extraordinary times. I see it as the confluence of many historical trends: the unresolved injustice of the Overthrow; decades of extraordinary mismanagement of our lands and resources by the State (including, but certainly not limited to, Maunakea); the success of educational reform efforts since the 1970s, with the fruition of Hawaiian language and culture becoming mainstream; and decades of grassroots organizing around the Mauna and other key issues.
But with all the success of Kūkahi, this is also a moment where we must be makaʻala. If we search our naʻau, we will find that the kind of change that our community needs is deep and impactful. With the new year comes the pressures of a legislative session and an election, all of which will seek to transmute the potential energy of the Mauna into small, superficial changes. Real change doesn't occur by swapping out elected leaders, but by presenting a new vision for our lāhui and our ʻāina. Maunakea has helped us to begin altering our relationships with each other and to the ʻāina. The opportunity before us is to turn that into a deep political program that reimagines justice for Hawaiians and ea for Hawaiʻi. Let's vote, but first let's get ourselves organized. E hoʻokūkahi kākou.