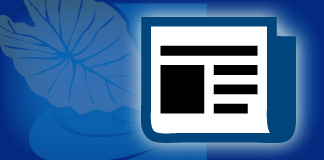 On June 6th, 2019 we witnessed a Kanaka stand up and lead. Unfortunately, the media completely missed the significance of what took place that day and incorrectly reported that the man at the helm of the Office of Hawaiian Affairs had resigned. Of course, nothing could be further from the truth. Ka Pouhana, Dr. Kamana'opono Crabbe announced that he would not be reapplying for the CEO position of the Office of Hawaiian Affairs.
Kamana'o and I have an interesting history. As a leader in the Association of Hawaiian Civic Clubs movement I found myself at the opposite end of the table on many issues with Kamana'o. Since I took office in November 2018 we have worked together on several projects, the most significant being the governance structure of the Office of Hawaiian Affairs. One thing in particular was the recruiting process. If you are a young political science major or young law school graduate the hardest place to get a job is at the State Capitol, for very little money. You will work there around 5 years or so, building your networks and resumé then go on to the private sector. The private sector will recruit you away for more money because they value your experience and contacts. This in turn helps those still at the Legislature because they now have these contacts in the private sector. I have always believed that the same should be true for the Office of Hawaiian Affairs. If you are a young Native Hawaiian political science major or law school graduate the hardest place to get a job should be at the Office of Hawaiian Affairs. There should be a line of Native Hawaiians down Nimitz trying to get a position here. When they leave for higher paying jobs after serving the Lāhui we will all benefit from these networks all over town.
As Kamana'o departs this wa'a and turns the helm over to the next watch he will not be stepping ashore. I have every confidence that he will, instead, be stepping onto a larger wa'a to continue his journey, and OHA will be the better for it. No voyage can be successful with one person steering the wa'a. Every person at the helm reads the swells differently and thus chooses a slightly different line. Kamana'o will benefit from what he has learned while at the helm of OHA and will never lose those that followed his guidance and have sought his council while at the helm. So too will OHA benefit from having a knowledgeable steersman on another wa'a.
It is my hope that one day wa'a all around Hawai'i, the country, and the globe will have Native Hawaiians at the helm because they have been given the tools necessary to guide any wa'a. We never want to hold those who have worked tirelessly to help the Lāhui back. Change is inevitable, and when it is time for a change the true leaders know it and move on to the next challenge and do not cling to what was, but instead charge ahead to what is to come. This is how we get more Native Hawaiians in positions of power. This is how we get more Native Hawaiians into positions of influence. This is how you grow a Lāhui.