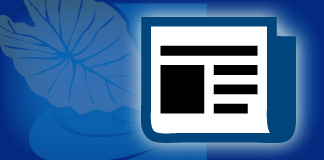 Hawaiian Slack Key Guitarist Bla Pahinui dies at age 76
James Daniel "Bla" Pahinui passed awat at age 76 in his home in Mokuleia, O'ahu. He was the second-born son of famous Native Hawaiian artist Gabby Pahinui and like others in his family, Pahinui was known for being a skilled musician and singer. Being left-handed, Pahinui's style of guitar playing was "upside down and backwards." He was considered one of the best left-handed slack key guitarists of his time and recorded both solo albums and collaborations with friends and family, such as the 1969 Sunday Mänoa album "Hawaiian Time." In 2017, Pahinui was given the Hawai'i Academy of Recording Arts Lifetime Achievement Award for his musical accomplishments. He is survived by his wife, Kathleen Pahinui, his daughter Brandy Clark, his brother Philip Pahinui, and sisters Margaret Pahinui Puuohau and Madelyn Pahinui Coleman.
---
Acres Available for Agriculture on Maui
Mahi Pono is looking for farmers interested in applying for community farming parcels on Maui. The farming company bought former sugar cane land and is now offering parcels for lease, up to ten acres along Maui Veterans Highway in Pu'unene. The lease rates are $150 per acre per year with the goal of boosting local food production.
Mahi Pono is a joint venture between Pomona Farming LLC, a California-based agricultural group, and the Public Sector Pension Investment Board (PSP Investments), one of Canada's largest pension investment managers. For more information and to apply, visit www.mahipono.com.
---
Farmers' Market Nutrition Program Offered to Seniors on Kaua'i
The Hawaii Foodbank Kaua'i Branch is hosting its annual Senior Farmers' Market Nutrition Program (SFMNP) in partnership with the State of Hawai'i – Office of Community Services and the United States Department of Agriculture/ Food and Nutrition Service. This nutrition program grants qualifying low-income seniors with $50 worth of vouchers to purchase fresh produce at participating farmers' markets.
Recipients of the program must complete an application to receive $5 voucher booklets, valued at a total of $50. The deadline to apply is Friday, September 20, 2019.
Vouchers can be redeemed at the following Kaua'i farmers' market locations:
Dang Fresh Farm
Hale Puna
Kapa'a Honey Factory
Kauai Glory Farm
Kealia Farm Market
Lanipo Farm
Lei Aloha Tropical
Lin's Farm
Mariano Farm
Primo Ballesteros
Ueunten Farm
Wirat Farm
Vouchers must be redeemed in exchange for fresh produce by Monday, September 30, 2019.
For qualifications and an application form, visit www.hawaiifoodbank.org/senior-farmers-market
---
Citizens Demand Restoration of Moloka'i Stream Flows Diverted by Moloka'i Ranch
In July 2018, Earthjustice, on behalf of community group Moloka'i Nō Ka Heke, brought legal action before the state Commission on Water Resource Management to restore stream flows to Kawela, Kaunakakai, Manawainui, and Waikolu Streams on Moloka'i. The streams, located in the central region of the island, have been historically diverted by Moloka'i Properties Limited, dba Moloka'i Ranch, to supply the lands it owns on the island's west side. Although the Ranch shut down most of its operations over a decade ago and has abandoned many of its stream diversions, it has continued to drain water from Kawela and Waikolu Streams at amounts close to what it used during its heyday. Meanwhile, the Ranch's Singapore-based parent company has offered the Ranch up for sale. The citizen action initiated today demands the return of diverted flows to the streams, a halt to wasteful diversions by the Ranch, and compliance with procedures to formally abandon and remove the diversion dams.
"For over a hundred years, these waters had been diverted miles across the island for cattle and ag operations on Moloka'i Ranch," said Moloka'i Nō Ka Heke member Walter Ritte. "Significant negative impacts to the ahupua'a include the aquifers, the streams and life in the streams, the many fishponds along the shore, limu grounds, fish stocks and the health of the reef. Moloka'i Ranch has shut down most of its operations and has put the ranch up for sale and cannot justify the need for these diversions."
Kawela, Kaunakakai, and Manawainui Streams flow from the island's lush windward mountain range to the south shore, while Waikolu Stream flows from the mountains to the north shore. All of the streams supported extensive settlement in pre-contact times, and are still used by residents for cultural subsistence practices. These streams also feed the groundwater aquifers that are the island's source of drinking water and the south shore reef and fishpond ecosystems that are a key traditional food source for residents.
"Returning the water to Kawela ahupua'a will bring back life that it once had before," said Moloka'i Nō Ka Heke member and Kawela resident Lohiao Paoa. "It was known to provide for our people in the past, and it's a crucial part of Moloka'i's water future. Kawela Stream deserves respect."
The Moloka'i community has been battling the Ranch over water rights for decades, resulting in landmark Hawai'i Supreme Court rulings that benefit all of Hawai'i and its people in affirming that water is a public trust and not private property. For example, in 2007, the Court made clear that it is private commercial water diverters like the Ranch—not the people who may be harmed—who bear the burden to prove a proposed water use will not harm the water resource and the rights of the public and Native Hawaiians.
"Moloka'i Ranch has been taking water from these streams for far too long with no accountability to the needs and rights of the 'äina and the people of the island," says Earthjustice attorney Mahesh Cleveland. "It's time to return these waters to their natural flow, and for the Ranch to remove or remediate its diversion dams. We are committed to helping the people of Moloka'i safeguard their water resources and the ecosystems that depend on them, now and for the future."