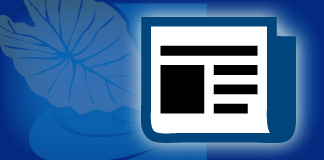 Honoring native american veterans
---
Kūkaniloko Master Plan in final stages
For the past two years, OHA has been working with a community working group and a team of consultants to develop a Master Plan for its 511 acres of land surrounding the Kūkaniloko Birthing Stones site.
On August 21 from 6 to 8 p.m. at Wahiawā District Park, OHA will present its final draft of the Master Plan to receive any last community input prior to requesting approval of the Plan from OHA's Board of Trustees in September. Light refreshments will be provided. For more information, visit www.oha.org/aina/kukaniloko.
---
OHA supports Kai Momona Spearfishing Tournament
The Edith Kanaka'ole Foundation has received an 'Ahahui Grant from the Office of Hawaiian Affairs to support the Kai Momona Spearfishing Tournament, scheduled for Sept. 1.
Spearfishing in Hawai'i has evolved from being a method of fishing to a lifestyle that is one of skill and pride. But removing the biggest, which are the breeders, can be detrimental to our fisheries.
This dive tournament will be focusing on skillfully targeting a specific size of different fish rather than aiming for the largest. This event is collaborative effort by the fishpond practitioners representing the three fishponds in Keaukaha and will help promote and support the restoration activities and efforts happening at the fishponds.
---
'Broken Promises' explores homestead act
State Rep. Gene Ward (R) has released a study and documentary about implementation of the Hawaiian Homes Commission Act of 1921, which designated roughly 203,000 acres of land to be divided among Hawaiians with at least 50 percent blood quantum.
The study explores why only 9,700 homesteads have been resettled, while more than 27,000 applicants are on a wait list. Former OHA and Bishop Estate Trustee Oswald Stender wrote the forward for the study, which is informed by interviews with all living former Department of Hawaiian Home Lands directors, as well as current Director Jobie Masagatani and Deputy Director William Aila. OHA Trustees Peter Apo and Keli'i Akina were also interviewed, as were developers and civic and business leaders including Momi Cazimero, Rob Iopa, Walter Thoemmes, Jim Dannemiller and Robin Danner.
The study states it is not meant to be an indictment of current or former DHHL administrations, but offers recommendations on how to better meet the housing needs of Native Hawaiians. Read the study and watch the documentary at www.BuildMoreHawaiianHomesWorkingGroup.org.
---
Polynesian Bowl announces Nike partnership
The Polynesian Bowl and Nike have signed a multi-year agreement that will put Nike athletic footwear, apparel and accessories on some of the nation's top high school football players.
The annual Polynesian Bowl, held each January, is a televised event that brings together 100 of the year's best high school players.
"It is only fitting the best high school football players be outfitted with the best apparel and athletic footwear," said four-time Super Bowl champion, Polynesian Football Hall of Fame chairman and inductee Jesse Sapolu. "The Polynesian Bowl is proud to call Nike our partner."
"The Polynesian Bowl has become an overnight success," said Bill Kellar, Nike director of football marketing. "We look forward to the partnership and this special showcase of great football talent."
The next Polynesian Bowl is scheduled for Jan. 19, 2019. For more information, visit www.PolynesianBowl.com.
---
State offers free WiFi Hotspots
The state has started offering free WiFi hotspots on Kaua'i, Maui, Moloka'i and O'ahu in the first wave of what will ultimately be at least 1,000 new sites.
The free WiFi comes as a result of the transfer of Oceanic Time Warner Cable to Charter Communication. At least 100 of the hotspots need to be located in public parks, civic and community centers and other public open areas and gathering centers, as designated by the state Department of Commerce and Consumer Affairs.
"In recognition of the importance of public internet access for Hawai'i residents, we have made it a priority to expand connectivity across the state – especially into our rural and underserved communities. It is our hope that this initiative will improve the quality of life for our residents and the general public," said Gov. David Ige.
To date, DCCA has designated 44 of the 100 public sites and announced that hotspots are already active at numerous bus stops on Kaua'i; in business and community gathering places in Hāna and Wailuku, Maui; and in public areas in Kalaupapa. Hotspots in the shared courtyards of the Department of Taxation and Department of Labor and Industrial Relations on O'ahu, as well as in Kaunakakai on Moloka'i, will be activated by fall, the state announced.
Locations can be viewed at: cca.hawaii.gov/broadband.
---
University of Hawai'i campuses go tobacco-free
All 10 University of Hawai'i campuses went tobacco-free on July 10 after implementation of a law sponsored by the American Cancer Society Cancer Action Network.
The ban, which includes electronic cigarettes, is similar to those at 1,800 other college and university campuses.
Davin Aoyagi, grassroots manager for ACS CAN Hawaii-Pacific, released a statement thanking policymakers for providing protection from secondhand smoke and e-cigarette aerosol.
"We know that 99 percent of all adults who smoke become addicted to tobacco before they turn 26 and that's why it's critical to support our youth with prevention and cessation efforts, as well as eliminate their exposure to secondhand smoke, e-cigarette aerosol and all tobacco products in their learning environments. This lifesaving legislation will protect 51,000 students across the UH System, as well as ensure that faculty, staff, children in the UH daycare and visitors to our campuses can breathe clean air, free of all tobacco use," he said.
Residents who want quit smoking are encouraged to call the Hawai'i Quitline at 1-800-784-8669.
---
'Art is Healing' exhibition call for entries
The West Hawai'i Community Health Center and Donkey Mill Art Center are calling for local artists to submit works for its 4th annual "Art is Healing" multimedia juried art exhibition.
Artwork should explore the theme: "Art is healing: 'O Wai Au: Who I Am." The exhibit will be juried by kumu hula Keala Ching and cultural educator Mina Elison.
The exhibition is way to use art as part of the healing process, as well as build a permanent collection of art for West Hawai'i Community Health Center locations.
Artists may hand-deliver up to two visual art pieces by Sept. 7. For details, visit www.westhawaiichc.org/calling-all-artists. For more information contact Natasha Ala by emailing nala@westhawaiichc.org or calling 808-331-6472.