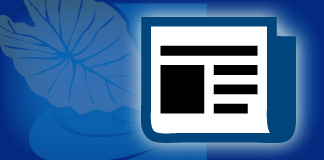 The Makahiki ceremonies on Kaho'olawe are unique to the needs of the island also known as Kanaloa Moku.
Kaho'olawe has had a rough history, given its use as a U.S. bombing range, ranch lands and a penal colony. The minimal resources of the land were nearly obliterated. The low-lying forests are all but gone. Up until the 1980s, the topsoil was allowed to run off and encircle the island, leaving the hardpan exposed and barren.
When Protect Kaho'olawe 'Ohana (PKO) formed in the late '70s, its main mission was to regreen Kaho'olawe. This was George Helm's vision, and it remains our mission. That's why our ceremonies are tailored around our unique needs.
Our needs are not to appease an ali'i with 'auhau, traditionally tax-like offerings proving the bounty of the land to the Mo'o Lono, the priest dedicated to Lono who also served the ali'i. Rather, our needs are to commune with Lono during his season. We raise our ho'okupu upon the lele to entice Lono to be present on Kaho'olawe. We call upon Lono through pule to beckon his kinolau of clouds, winds, mists and rains. All this is done to regreen Kaho'olawe, re-establishing its mauli, which in turn re-establishes our own mauli.
At Lā Kū Kahekahe on Feb. 10, held at Windward Community College's Hale A'o, I hosted a panel of Makahiki scholars and practitioners. The panel consisted of Miki'ala Pescaia, Kalei Nu'uhiwa, Rangi Mātāmua and myself. As the moderator, I asked them to share bit about Makahiki with their own unique insights. Dr. Mātāmua spoke about the impact Kaho'olawe's Makahiki has had on revitalizing Matariki ceremonies in Aotearoa. Mrs. Pescaia's main point was that through their ceremonies and Makahiki practice, they know Lono and Lono knows them. Genius! Ms. Nu'uhiwa discussed her Ph.D. work under Dr. Mātāmua, Dr. Hēmi Whānga (both of the Waikato University) and myself. Her work focused on some misconceptions in connection to Makahiki, primarily because the English medium resources that are widely used are secondhand at best. When we focus on what scholars such as Malo, 'I'ī, Kamakau and others wrote about their firsthand experiences of Makahiki, the picture is much different than what was previously painted for us. Very interesting work. I suggest you look into one of her talks.
Although the general understanding of Makahiki may not align with what Malo mā had to say, that doesn't make what we're doing today hewa. The ceremonies reported by Malo mā were performed under the rule of Kamehameha and perhaps chiefs before him. Those ceremonies differed on O'ahu, according to Ms. Nu'uhiwa. Throughout our pae'āina we had different reasons (perhaps kumu is a better word choice here) for doing ceremony and, thus, ways of performing ceremony. We have specific needs on Kaho'olawe and those needs are what we're meeting through our particular ceremonies.
As Aunty Nālani Kanaka'ole said on Kaho'olawe in February 2016, we have an established religious practice on Kaho'olawe for Makahiki that moves like a well-oiled machine. It is our kuleana to interpret the hō'ailona and 'ouli pre- and post-ceremony on our own to constantly assess the presence of our akua. Aunty Nālani designed our ceremonies and trained the first Mo'o Lono of Kaho'olawe after she observed one of our current ceremonial days, so her proverbial pat on the back was a warm confirmation that we're doing well.
The obvious regreening of Kanaloa Moku is the true hō'ailona, however, our ceremonies are doing what they are intended to do while working in concert with other restoration efforts. Ola ka 'āina. Ola iā Kāne. Kāne ke akua ola. Noa iā Kāne.