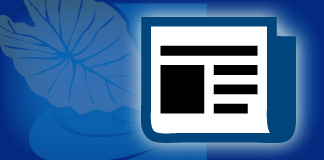 [Originally published in the Summer 1982 edition of Ka Wai Ola]
The art of ha'ina nane (riddle and answer) was an exciting and favorite column in the old Hawaiian newspaper, Ka Nupepa Kuokoa. People throughout the islands would send in their riddles and answers or replies to others. Many wrote under fictitious names like Mrs. Lihilihi-Kamakaopua (Mrs. Eye-lash of the cloud), E.K.K. Kai Malino (E. K. K. Calm Sea) from Kona or P .M. Kaomi Kehau o Miloli'i (P.M. Gentle dew of Miloli'i), but the most formidable expert was Z. P. Kalokuokamaile(that was his real name) from Napo'opo'o, Kona. These and other writers would give their nane (riddle), the haina (answer) and their explanation or wehewehe. The columns were full of kolohe laughter, of wonderful imagination and a understanding of the poetry of the Hawaiian language.
Ha'ina nane was a serious part of the ancient Hawaiian courts where each chief of importance would have his own keiki ho'opapa (expert riddlers). Visiting chiefs would have their own expert challenge the host's expert in contests for entertainment. Today, the ha'ina nane teases us as Hawaiians to think as our older folks did so we can discover and enjoy their answers.
Ku'u wahi i'a, ke moku ke po'o, kanu 'ia i ka wai a ola no.
My fish, when the head is cut off, plant it in water and it lives.
Ka ha'ina: Ka huIi kalo, taro plant.
The head is the corm of the taro and the tail are the leaves.
'Elua 'ili'ili, puni ka honua.
Two pebbles view the whole earth.
Ka ha'ina: Na maka, the eyes.
He ipu no he po'i, he ipu no he po'i, a pa i ka lani.
A gourd with a cover , a gourd with a cover till the heavens are reached.
Ka ha'ina: Ka 'ohe, the bamboo.
Each joint of the bamboo is covered.
Ku'u 'ele, ku'u lua, ku'u mo'o.
My black, my hole, my lizard.
Ka ha'ina: 'elemakule, luahine, mo'opuna.
This is a play upon the Hawaiian words: 'ele+makule, lua+hine, and mo'o+puna.
A lau a lau ke 'alinalina, ho'okahi no 'opihi ko'ele.
Many small shellfish, one large shellfish.
Ka ha'ina: Ka mahina ame na hoku, the stars and the moon.