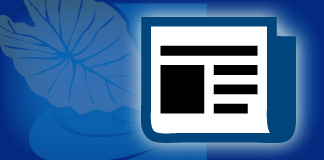 Photos courtesy of (L-R): Kawika Kahiapo, Theresa Ang, Ho'okena, Dana Edmunds and Nathan Aweau.
Stages are empty. Concert halls are dark. Clubs, bars and restaurants have been closed for table service, meaning live entertainment—which in many cases drew patrons as much as food, drinks and ambience—has not been available.
The next-best thing? Music livestreamed in the comfort and safety of our homes as we continue to ward off the coronavirus by sheltering in place as much as possible. Although Hawaiʻi's singers and musicians have lost their gigs for now, they're still reaching audiences via a click of the mouse. Check out these popular programs.
Outrigger LIVE: Kani Ka Pila Music Jam
Daily, 5 p.m.
www.facebook.com/OutriggerResorts
Ever since it opened in 2009, Kani Ka Pila Grille at the Outrigger Reef Waikiki Beach Resort has been known as one of the best places in Hawaiʻi to see Grammy nominees and Nā Hōkū Hanohano award winners perform regularly. When the casual, open-air restaurant suspended operations in early April in compliance with Governor David Ige's mandate, Outrigger LIVE: Kani Ka Pila Music Jam was launched to keep the music flowing.
This is the weekly lineup (subject to change): Monday, Sean Naʻauao; Tuesday, Weldon Kekauoha; Wednesday, Kapena; Thursday, Kawika Kahiapo; Friday, Mark Yamanaka; Saturday, Hoʻokena; and Sunday, Nathan Aweau.
Ranging from 30 to 60 minutes, the program is streamed from each artist's/group's house, and in case you miss any, they are all posted on the Facebook page along with the current schedule.
"Kani Ka Pila Music Jam reminds me of when I was a child, and my family held jam sessions in the garage of our Kalihi home," said Luana Maitland, Director of Cultural Programs for Outrigger Hotels and Resorts. "It was fun and spontaneous! Music soothes the soul and heals the heart. It puts us in a relaxed, peaceful state. During this time of uncertainty, we all need that."
Live! Mele in the Hale
Saturdays, 4 p.m.
www.facebook.com/HakuCollective/ and www.youtube.com/hakucollective
In early March, soon after it became evident that COVID-19 was a worldwide crisis, multiple Nā Hōkū Hanohano award winner Kimié Miner started livestreaming "mini concerts" on her social media platforms. Receiving a lot of positive feedback, she thought it would be great to join with other local artists to uplift the community through music.
Miner is the creator and producer of Live! Mele in the Hale, which kicked off on March 21 with herself, Kalani Peʻa and DeAndre Brackensick as the featured artists. Since then, Anuhea, Kapena, Amy Hanaialiʻi, Josh Tatofi, Paula Fuga and Natalie Ai Kamauu are among the other A-listers who have appeared. Pashyn Santos, Malika Dudley, Lina Girl Langi, Zavier Cummings, Tannya Joaquin, and Mele Apana and Shannon Scott have served as hosts. Programs are usually finalized the week prior and last 90 minutes to two hours.
"We share a different theme every week," Miner said. "For example, Make a Lei/Share a Lei coincided with May Day. The participants that week dedicated the lei they had made to a special person in their life. For Actions of Aloha, they talked about a good deed they were able to do while following the stay-at-home order. It has been hard on everyone to stay home in isolation, but Moments of Gratitude was a theme that encouraged participants to remember the blessings they receive even during this challenging time."
Past Mele in the Hale shows are archived on both websites. For more information, visit www.hakuhawaii.com/meleinthehale.
Duke's on Sunday
Sundays, 5 p.m.
www.facebook.com/Henry-Kapono-86187324493/
Henry Kapono, one of the doyens of Hawaiʻi's music scene, won fame as part of the 1970s duo Cecilio and Kapono. Claiming 18 Nā Hōkū Hanohano awards and a Grammy nomination, he has headlined the Sunday entertainment slot at Duke's Waikiki for close to 30 years. Livestreams from the restaurant began a few years ago; on March 22, they moved to Kapono's Hawaiʻi Kai home in accordance with lockdown rules.
During the hour-long program, requests pour in from all over the world, and Kapono and his band play as many as they can. C&K hits such as "Friends," "Sailing," "Good Times Together" and "Highway in the Sun" are always part of the mix.
"Music speaks to everyone," Kapono said. "It's comforting; it takes you to a happy place. Until Hawaiʻi's restaurants can open fully again, Duke's on Sunday will be a virtual party, and everyone is invited!" All the programs remain on Kapono's Facebook page.
He also earns kudos for the We Are Friends…COVID-19 Relief Program for Hawaiʻi's Music Community spearheaded by his nonprofit 501(c)(3) Henry Kapono Foundation (www.henrykaponofoundation.org). In partnership with Foodland and the Kawakami family of ʻIolani Sportswear, the foundation has distributed $125,000 in Foodland gift cards thus far to kōkua unemployed music professionals.
"Music has supported me through good times and bad, and I'm grateful to be able to give back," Kapono said. "We musicians are ʻohana, and we must take care of each other." Learn more at www.henrykapono.com.
Hana hou!
Check your favorite artists' Facebook page to see if they're livestreaming music, too.
In addition, Mālie Sundays debuted on Mother's Day, May 10, with Shawn Pimental, Del Beazley and Lehua Kalima Alvarez at the mikes. Guest artists since then have included Robi Kahakalau, Barry Flanagan and Bryan Tolentino.
Every Sunday in June from 2 to 4 p.m., the program will be livestreamed from a different O'ahu location. Details were not confirmed at press time, but you can get a front-row seat and a chance to win great prizes (think jewelry, clothing and dining certificates) at www.facebook.com/shawnandlehua.
On April 18, KITV4 broadcast the first in a series of 12 pre-recorded concerts to fund personal protective equipment for local hospitals and first responder units. Hosted by Maleko McDonnell, KITV's "Good Morning Hawai'i" anchor, and Star 101.9's Flash Hansen, Living Room Live has spotlighted headliners such as Makana, Taimane and John Cruz.
The June 6 show will air simultaneously at 6 p.m. on KITV and www.AlohaTogetherHawaii.com (the lineup had not been finalized by press time). It will be re-broadcast at 9 p.m. that evening on radio stations KSSK 92.3 FM and Island 98.5 FM and the following Monday, Wednesday and Friday at 8 p.m. on Spectrum TV Channel 1106.
Four more programs are planned in June and early July; once confirmed, the dates and times will be posted on www.AlohaTogetherHawaii.com, where the entire series will be archived.