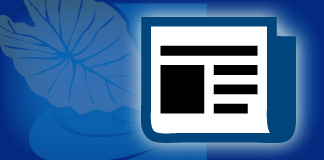 Classified ads only $12.50 – Type or clearly write your ad of no more than 175 characters (including spaces and punctuation) and mail, along with a check for $12.50, to: Ka Wai Ola Classifieds, Office of Hawaiian Affairs, 560 N. Nimitz Hwy., Suite 200, Honolulu, HI 96817. Make check payable to OHA. (We cannot accept credit cards.) Ads and payment must be received by the 15th for the next month's edition of Ka Wai Ola. Send your information by mail, or e-mail kwo@oha.org with the subject "Makeke/Classified." OHA reserves the right to refuse any advertisement, for any reason, at our discretion.
Do You Or A Loved One Need Long Term Care, Final Expense, Or Life Insurance?? Let's see what fits your needs!! Call Kamaka Jingao 808-286-0022 Hi Lic #433187
Hawaiian Memorial Park Cemetery Garden – Devotion. Lot 106, Section-D. Price $8,500 or B/O. Great Feng Shui plot on a hill facing the ocean. Contact 808-885-4501 or 808-345-7154 (cell)
Hawaiian Memorial Park Cemetery Garden of Central. Lot 21, Section-D, Sites 1-2, side by side – $3,500 each sold separate. Double Internment Plots. Bay view near roadside. Contact Al 808-597-7710
Hawaiian Memorial Park Cemetery Garden of Mt. View. Lot 154, Section-B, Sites 2-3. Selling both plots – $12,000. Contact Evangeline at 808-651-1926.
Save On Medicare. With Medicare you have options, we compare those options for you. No Cost! No Obligations! Call Kamaka Jingao 808-286-0022. Hi Lic #433187.
Puukapu – Waimea 5 groomed, fenced acres, custom 2 bedroom, 2 bath, 2 half bath home, 4 stall barn, arena w/5 grassed paddocks, excellent property for your horses and animals, much more. DHHL lease $850k. Barbara Kennedy (RA) RS-26818 Graham Realty 808-221-6570, email – bobbiegrahamrealtyhawaii@gmail.com
Strong Flags (Kānaka Maoli/Hawaiian) (large 3'x5′) for your truck or boat ($10.00), T-shirts, tank tops with coat of arms or flag, 4″ patches of Hawaiian coat of arms, T-shirts for each island from $10.00, Kā naka Maoli Pledge posters for your school, labels, bumper stickers, window decals, etc. Order at www.kanakamaolipower.org or phone: 808-332-5220.