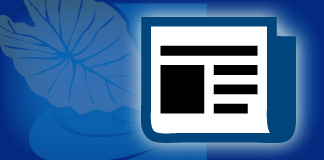 2019
Coito – Reunion on July 18, 2020. Place and time (to be announced at a later time), "Catered Lū 'au". Ti shirts, tank tops and genealogy books available. Contact Jeanne Kahanaoi, 89-475 Mokiawe St., Wai'anae, Hawai'i 96792. Phone: (808) 354-7365.
Chartrand – Aloha John Francis Carson Chartrand is my Grandfather on my mother's side. He came to Hawai'i in the 20's with the Calvary. He married four Hawaiian women in his life and had many children. Mary Keahi Kaohu, Edith Kapule Kalawaia, Margaret Keanalani Claesene and Helen Brown. My mother Isabelle Leina'ala Chartrand Kainoa and brother Harold Kalawaia Chartrand had eleven half siblings. In honor of all the Chartrand 'Ohana that have passed on, to meet Grandpa Chartrand. We want to plan this a reunion. We need everyone to kokua with your current contact info to cuzin Cami Chartrand 446-5098 email Chartrandreunion2020@gmail.com or John Kainoa 244-8428, johnkainoa61@gmail.com. We look forward to hearing from you. Mahalo John.
Hatori – The descendants of Kantaro Hatori (Hattori) and Lahapa Halana are planning a family reunion on October 12, 2019 on Oahu. Kentaro and Lahapa Hattori had ten children, all of whom have produced descendants: Henry, Susan, Philip, Albert, John, Anna Jennie, Josephine, Carrie, Pio, and Manasey. Please join us to renew relationships, meet new additions, talk story, play games, eat, and to ensure that our keiki know their 'ohana. The committee is also in the process of updating our genealogy and want it to be ready by our reunion date. For more information contact your 'ohana rep or Bobbie-Lynn Molina (808) 754-8564 hatorireunion@gmail.com or Lena Abordo hatoriohana.2016@yahoo.com
Kaaa Reunion – Saturday, November 9th, 2019, 9 a.m. to 6 p.m. at Zablan Beach, Nānākuli (across from Nānākuli Ranch). This is a potluck affair. Everyone come and meet your 'ohana. This is the last Kaaa Reunion I'll be having due to health reasons. Ti shirts and tank tops will be available as well as genealogy books. Please contact me – Jeanne Kaaa Kahanoi at 808-354-7365.
Ka'auhaukane – Na Lālā O Ana Lumaukahili'owahinekapu Ka'auhaukane will celebrate our 15th annual 'ohana ho'olaule'a and pā'ina on Saturday, September 7, 2019, from 9 am to 5 pm, at the Bellows Air Force Station, Picnic Pavilion "5-B." Deadline to register is Monday, August 26, 2019. To ensure base access, please contact your family representative for everyone attending the potluck lunch. Ana's makuakane was Kamokulehua'opanaewa Ka'auhaukane (k) and makuahine was Pailaka Ho'ohua (w). Ana was born March 3, 1845, in Ka'auhuhu, North Kohala, on Hawai'i Island. Her date of death was January 30, 1917. Ana's kaikua'ana was Kealohapauole Kalaluhi Ka'auhaukane (w). Ana first married Joseph Kaiamakini Kanoholani (k). They had 'ekolu kamali'i: Joseph Kaiamakini Kanoholani (k), Makini Kanoholani (k) and Mary Kaiamakini Kanoholani (w). Later, she married John Von Iseke, they were blessed with 'umikumakolu kamali'i: Maria, Elizabeth (Kapuaakuni and McKee),Theresa (Kapiko and Quinn), John Isaacs (Lincoln), Joseph, Antone, Anna, Henry, Louis (Silva), Joseph Joachim (Cockett), Frank (Pereira), Charles (Samerson) and Katherine (Sing). Family representative contacts: Peter Machado 689-0190 (Kapiko and Quinn); Shirleen "Boss" Sturla (619)-890-5106 (Iseke and Kanoholani); Louie Peterson Jr 216-9331(Isaacs and Iseke); Colleen Tam Loo 729-8662 (McKee); Puanani Orton 235-2226 (McKee).
Heen/Meheula – Calling all descendants of Chung Mook Heen, known in Hawai'i as Harry A. HEEN married Mary (Mele) Helemika Keaukahalani MEHEULA. Known Children: William Ha'eha'e Heen, Afong Waianuenue, Phoebe Kaenaokalani, Moses Keli'iolono Heen, Eliza (Lulu) Lulukamakani, Ernest Nalanielua; Robert Kanehailua Kekuaiwahia, Edward Kahakelehua, and George Keawe-a-meheula. Harry may have had other wife's, we are hoping to connect with that 'Ohana as well. We are in the planning stages but are looking to do a family reunion sometime in 2020 on O'ahu. Please contact Teave Heen
808-870-7656 teavehee@gmail.com or Curtsi Heen curtis.heen@yahoo.com.
Waipa – The descendants of Waiaha (Kahaipo) Waipa and Pilialoha Kahilihiwa are planning a family reunion on October 11, 12 and 13 at the Haili Tent at Panaewa, Hilo on the Big Island. The following of their 12 children had off-springs: Waiaha Waipa (m. Napua Kaukini, aka Alice Waipa); Leialoha Waipa (m. Kook Fai Akaka; m. Li Tai Ta Ah Hee); Kaamoku Waipa (m. Loke "Rose" Purdy); Limaloa Waipa (m. Kahikini "Lucy" Kaukini); Hanakahi Waipa (m. Margaret Moku); Kanani "aka Puakomela" Waipa (m. Benjamin Ili); Abraham "Apela" Waipa, Sr. (m. Cecilia Kupihe; m. Elizabeth Kainoamakua "Makalia" Kapea). Times and events planned are October 11, 5:00pm – Pot Luck Pupus and Sharing of family trees; October 12, 12:00pm – Workshops, Late Lunch-Early Dinner; October 13, 11:00am – Talk story and light lunch. Contact Krissy Santa Maria 808-756-4951 or Leona Leialoha 808-315-9977 for more information.
'Imi 'Ohana: Family Search
Cullen – Looking for genealogy records for my great grandmother on my father's side. Mary Cullen 1869-1920 married John Fernandez 1860-1939. Their daughter Madeline Fernandez Colburn. Please call or text Pauahi Colburn at 722-8400. Mahalo nui.
Estrella/Soeiro – I apologize for the latest but the Estrella/Soeiro reunion is cancelled until next summer in 2020. Should you have any questions, please contact: Annette at ulu2ohia3@gmail.com or (808) 896-4902.
Gramberg – Searching for the descendants or any related 'ohana of Herman Gramberg and Rose Anakalea. Children of Herman and Rose are Herman "Waha", Theresa, George, Vivian, Henry "Heine", Darilynn, and Rosebud. Looking to update genealogical information. Please email gramberg
ohana1@gmail.com. Any inforomation shared is greatly appreciated. Mahalo!
Harbottle – I am looking for information on my great-great grandmother. Her name is Talaimanomateata or Kua'analewa, she was Tahitian and married to or had a child with George Nahalelaau Harbottle. Born in 1815 on O'ahu and son of John Harbottle of England and Papapaunauapu daughter of Haninimakaohilani and Kauhiaimokuakama. I know from Edward Hulihee Harbottle's (my great grandfather) Guardianship court case that when his father George died his mother was on Maui and the case was stopped until she could be in court. When she appeared in court she said it was fine if Edward H. Boyd became his guardian. There are family stories that she had come from an ali'i family of Tahiti and was in Hawai'i as a ward of the court. I have not been able to substantiate this information. If anyone in the family knows where I might look it would be wonderful to know. Please contact me at waiakaphillips@yahoo.com or call 808-936-3946. Mahalo, Noelani Willing Phillips.
Hanawahine/Keaumau/Keawe – Looking for the descendants/ancestors of Soloman Hanawahine(1874-1921) and Kane Keaumau Keawe of Ho'okena, South Kona. Kane later changed her name to Alice Keawe. Together they had the following known children and (spouses); Joseph Hanawahine changed to Kanawahine (Koleka Paauhau), George H. K. Hanawahine Sr. (1st wife: Victoria Kaupu 2nd: Julia Keala), Samuel K. Hanawahine (1st wife: Julia Keauhou 2nd: Miriam Dela Cruz), Mary Hanawahine born Kane (Henry Kaioula), Eva Hanawahine (Henry John Silva), Sophie Hanawahine (Fabiano Kealoha), Katy Hanawahine (Yan Gen Pil), and Rachel Hanawahine (Albert Kamai). Any information on our 'ohana's moku'au'hau will be valued. Please contact Quiana Danielson-Vaielua by phone 808-371-9660 or email quianakdv@gmail.com. I am the great-great granddaughter of Soloman Hanawahine and Kane Keawe, great granddaughter of Samuel Hanawahine and Miriam, and grand of Naomi Hanawahine.
Hussey – The Hussey family (Alexander & Kaaikaula Makanoe) is updating its genealogy book. Please go to husseyohana.org for more information.
Kaiwa – Looking for descendants or related 'Ohana Members of 'BILL KAIWA', aka 'SOLOMAN ANI. Please contact ROBERTA BOLLIG 320-248-3656 or flh63kb@yahoo.com MAHALO!
Kalaupapa – Are you looking for an ancestor at Kalaupapa? Ka 'Ohana O Kalaupapa, a nonprofit organization made up of Kalaupapa residents, family members and friends, might be able to help. We have information on more than 7,000 people sent to Kalaupapa. Contact 'Ohana Coordinator Valerie Monson at vmonson@kalaupapaohana.org or call 808-573-2746.
Kamakau – Looking for anyone with information on Abigaila Ellen Hakalaniponi (also known as Poni) Kamakau. Born at Kaopipa/Kaupipa, Kipahulu, Maui on September 3, 1850 and died at Kahehuna (Honolulu) on January 20, 1884. Please contact 808-366-0847 or
lruby@hawaii.edu.
Kamekona/Loa/Kahawai – Searching for genealogy, family members, foster or hānai records for my Great Grandmother, ROSE HIWA KAMEKONA, born June 15, 1909, 1st marriage to George Loa 1927 (one child with/Rose Loa/now Rose Lani), 2nd marriage to Francis Kahawai 1928 – 1929 (three children with), deceased 1935. I am the grand-daughter of Rose Loa/Lani, great grand daughter to ROSE HIWA KAMEKONA. Please call/leave message/text Luana @ (808) 450-0103 or email
lkeliikoa3@gmail.com.
Keawe – Looking for genealogy records or family members for my grandmother Hannah Keawe born 1875 in North Kohala, HI. Married my grandfather Henry K. Iaea born 1880 in Ka'u, HI. Married 1901 Hon. Territory of Hawai'i birth 1896-1909. Index by name of mother Keawe Hannah, father Henry K. Iaea – child Elizabeth Kalua born 7/19/1898 in North Kohala. Please call Ned Iaea 808-979-1800 or 808-426-1061. Mahalo!
Kina/Lincoln/Bailey – We are looking for the descendants of the unions of Meleana Kaimuali'i Kina (Moloka'i) and George Walter Lincoln, Nellie Lihue Lincoln and Charles Anson Bailey (Maui), Nellie Lihue Bailey (Maui) and John Domingo Joyce, Pearl "Peachie" Marie K. Bailey (Maui) and West LaFortune, Meleana Wahineho'ohano Nui (Maui/Moloka'i) and Samuel Moewale Kaleo (brother to Charles Lui Ko'oko'o and Kunewa Moewale). We are planning a reunion for October 2018. Please contact us at: oct2018.reunion@gmail.com or call Phyllis @291-5826, Kanani @ 674-6679, or Moana @ 744-9901. Kuemo (-no)/Kolaimo – Looking for descendants of Japanese drifters who came to O'ahu in 1841, much earlier than the first Japanese immigrants came to Hawai'i. Kuemo or Kuemono (original name is Goemon) came from Tosa, Japan and he naturalized to the Kingdom of Hawai'i on Jan 10, 1845. He lived in Honouliuli as a farmer from 1847 and seems to married to a Hawaiian lady "Hina" on May 20, 1851 according to marriage record. I am also looking for descendants of Kolaimo, who's original name is Toraemon of Tosa, Japan and naturalized to the Kingdom of Hawai'i on Feb 13, 1847. He worked as a carpenter under Mr. Heart, married to a Hawaiian lady and died in O'ahu. Please contact Harry 808-777-9187 or harryporterkiawe@gmail.com Mahalo!
Kekuku Apuakehau – Looking for lineage from Joseph Kekukupena Apuakehau, 1857-1936, and Miliama "Miriam" Kaopua, 1857-1919, to Kalaimanokaho'owaha also known as Kana'ina nui (Big Island Ali'i), circa 1778, to Alapa'i Nui (Big Island King, 1725-1754). Any and all information will be greatly appreciate. Mahalo! Please send email to Miriam: matar02@Hawaiiantel.net.
Kauka – Looking for descendants or related 'ohana members of Deborah Chan Loy (DOB: about 1885) Please contact Glenn Ventura at gdventura44@gmail.com. Mainly trying to locate sisters of my mother Irene Loy (DOB: 1914) Married John Ventura of Kihei. Sisters: Lillian, Saddie (Sadie), Warma (Velma) and Agnes Kauka.
Makua – Looking for descendants or related 'ohana members of Henry K. Makua (year of birth: 1907, Honolulu) Father: Joseph K. Makua, Mother: Mary Aukai, Sisters: Malia and Mele, Sons: Henery and Donald Makua. Joseph and Mary may have orginated from Kaua'i. Looking for genealogical information. Please contact – emakua.makua@gmail.com. Mahalo!
Nagai/Castor/Kama/Mau/kaupu – Nagai's, Castor's, Kama's, Mau's and Kaupu's are planning a reunion of all first cousins and 'ohana on October 10–13, 2019 to be held at Pilila'au Army Recreational Center in Wai'anae. Please contact Nani Castor-Peck at 206-612-0636 or Tavia Santiago at 808-590-4005 or email Ellen Schaff at chevyxtreme2@yahoo.com.
Waiolama – Searching for family members and genealogical records of George ('Ainaahiahi/Kaaniaahiahi) Waiolama born about June 5, 1892 in Kahakuloa, Maui. Mother: Kawao Kaainaahiahi Kahakuloa, Maui. Father: (George Sr.) Waiolama of Wailuku, Maui. George Jr. is a half brother of my grandmother Elizabeth "Lizzie" Leialoha Cook. Also, family members of Waiolama on O'ahu, Helemano area, who was a brother in law of 3x great uncle Konohiki Namahana (Mahoe) (if this is the one and same Waiolama family?). Please contact Sissy Akui at kealohamaiole@gmail.com. Mahalo!