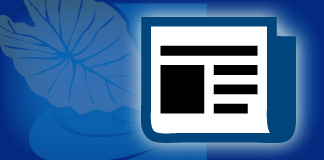 Read this article in ʻŌlelo Hawaiʻi
By Dr. Katrina-Ann R. Kapāʻanaokalāokeola Nākoa Oliveira and Manu Kaiʻama
In 2018, the University of Hawaiʻi at Mānoa was awarded a $2.4 million, three-year grant from the U.S. Department of Education (DOE) Native Hawaiian Education Program to, among other things, help with the reacquisition and revitalization of Hawaiian language.
This funding created the "Noʻeau Program," which is named in honor of UH Mānoa Associate Professor Sam L. Noʻeau Warner, who passed away in 2016. He was a kumu, mentor, and friend to both wahine, and thousands of other community members.
Warner co-founded ʻAha Pūnana Leo, a nonprofit, family-based educational organization that was instrumental in re-establishing the Hawaiian language in Hawaiʻi. He developed innovative approaches to teach Hawaiian to students at all levels, and played a leadership role in establishing the Kawaihuelani Center for Hawaiian Language at the UH Mānoa.
In 2009, Warner published 31 children's books through a federal grant. These books assist in strengthening appropriate Hawaiian language usage. They were distributed to all Hawaiian language immersion children, schools, libraries and other places, free of charge.
Inspired by Warner's good work and generosity, Oliveira and Kaiama created "The Noʻeau Program." Supporting its primary goal of literacy, two of its components are:
The Lauʻulu Literacy component expands on Warner's publication of children's books. Funding has been allocated to the completion and publication of an additional 21 books that Warner was working on prior to his passing. They simplify the acquisition of abstract grammatical concepts and include grammatical schematics of the original 31 books. It's exciting to know that they will be made available to a new generation of Hawaiian learners.
The Piʻilani Immersion section supports Mauiakama, a highly successful Hawaiian language immersion summer camp for students who have completed second year or higher at a University of Hawaiʻi campus. It has been co-led for over a decade by faculty at UH Maui College and UH Mānoa. Funding supports students' participation in learning the history of places visited, a variety of Hawaiian cultural practices, and strengthening their use of Hawaiian language in diverse situations.
The Noʻeau Program is in its second year and currently seeking additional funding to create on-line learning tools for teachers and students alike to access that complements each book.
Dr. Katrina-Ann R. Kapāʻanaokalāokeola Nākoa Oliveira is a professor in the Kawaihuelani Center for Hawaiian Language and Manu Kaʻiama is a CPA and instructor at both Kamakakuokalani Center for Hawaiian Studies and the Shidler College of Business. Oliveira and Kaʻiama co-authored this grant.