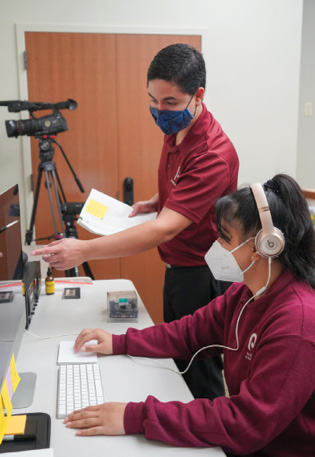 Read this article in ʻŌlelo Hawaiʻi
By Bruce Torres Fischer, Kaʻawaloa Kauaʻula, and Larry Kimura
According to the ʻōlelo noʻeau Mary Kawena Pukui documented in her book ʻŌlelo Noʻeau: Hawaiian Proverbs & Sayings, "ʻAʻohe hana nui ke alu ʻia." "No task is too big when done together by all." The Kaniʻāina: Voices of the Land digital library on Ulukau is home to hundreds of hours of audio and video material containing the voices, stories, and immeasurable ʻike of Hawaiʻi's mānaleo (native speakers) at www.ulukau.org/kaniaina. The main objective of Kaniʻāina is to make this ʻike available and freely accessible online to the public so that the gift these kūpuna left behind can continue to be given to families, learners, and teachers working to invigorate ʻōlelo Hawaiʻi throughout the pae ʻāina.
One of the largest Kaniʻāina collections containing just over 500 hours is the radio program Ka Leo Hawaiʻi, which was broadcast on KCCN from 1972 to 1988 with interviews of mainly Native Hawaiian-speaking elders and phone calls from listeners. We are excited to announce that a new crowdsourcing component is available to the public at www.ulukau.org/kaniaina that allows speakers of ʻōlelo Hawaiʻi to participate in listening and typing out transcriptions of Ka Leo Hawaiʻi episodes. These community-produced transcriptions will greatly enhance the searchability and general accessibility of these radio programs for listeners from all backgrounds, while also serving as an instructional tool for building transcription skills of hundreds of Hawaiian language learners.
E alu mai! Let's all work together! We hope that everyone passionate about the Hawaiian language, including students, teachers, and all hoa ʻōlelo Hawaiʻi will participate in this effort by the community, for the community. Transcribing is no easy task and requires work and dedication, but the reward is that we will all strengthen our Hawaiian language together.
Instructions in written and video format are posted online at www.ulukau.org/kaniaina when you navigate to the Ka Leo Hawaiʻi collection page. Become a transcriber today!