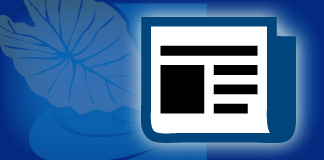 NOTICE OF CONSULTATION SECTION 106 OF THE NATIONAL HISTORIC PRESERVATION ACT OF 1966, AS AMENDED (2006) KUHIO HIGHWAY (ROUTE 56), REPAIRS TO WAILUA BRIDGE PUNA DISTRICT, KAUAI TAX MAP KEY(S): (4) 3-9-006:999; -:012; 3-9-002:999; -:030; -:021; 3-9-004:006; 4-1004:001; -:999; -:020; and -:008
Notice is hereby given that the Federal Highway Administration (FHWA) and State of Hawaii Department of Transportation, Highways Division propose to repair the Wailua River Bridge. This proposed project is federally funded, therefore it is considered a federal action and undertaking, as defined by Section 106 of the National Historic Preservation Act (NHPA) of 1966, as amended (2006). To maintain the structural integrity of the bridge, the proposed project would remove the rocker bearings that support the girders, deck and traffic loads. The existing concrete piers would be extended taller to support the existing girders directly. The project will also upgrade three of the four guardrail end post transitions into bridge railing to bring them up to current traffic safety standards. A map of the project location and area of potential effect (APE) is shown. The APE is proposed to be the entire right-of-way (ROW) of Kuhio Highway from Leho Drive to Kuamoo Road with some additional area for construction access and staging along the marina access road. In all, the APE is about 7.4 acres.
Pursuant to Section 106 of the NHPA, Native Hawaiian organizations and Native Hawaiian descendants with ancestral lineal or cultural ties to, cultural knowledge of or concerns for, and cultural or religious attachment to the proposed project area are requested to contact Mr. Raymond McCormick via email at raymond.j.mccormick@hawaii. gov, or by U.S. Postal Service to Department of Transportation Highways Division, 1720 Haleukana Street, Lihue, HI 96766
Please respond by Nov. 29,2017.
---
ASM Affiliates is preparing a Cultural Impact Assessment (CIA) in support of the proposed Oʻahu Community Correctional Center (OCCC) Replacement Project, State of Hawaiʻi Department of Public Safety (PSD), Island of Oʻahu. Four alternative locations on Oʻahu have been identified for the replacement of the OCCC facility. In addition to the four site being investigated for the OCCC replacement facility, PSD seeks to improve the current Women's Community Correctional Center (WCCC) located in Kailua and is therefore included in the current project plans as well as the CIA study. The five study areas are:
Animal Quarantine Site TMKs: (1) 9-9-010:006 (por.), (1) 9-9-010:046 (por.), (1) 9-9010:054, (1) 9-9-010:055, (1) 9-9-010:057, and (1) 9-9-010:058; Hālawa Ahupuaʻa, ʻEwa District; approximately 25 acres of buildable land (16% of site).
Current OCCC Site TMK: (1) 1-2-013:002; Kalihi Ahupuaʻa,
Kona District; approximately 8 acres of buildable land area (50% of site).
Hālawa Correctional Facility Site TMK: (1) 9-9-010:030; Hālawa Ahupuaʻa, ʻEwa District; approximately 5 acres of buildable land (16% of site).
Mililani Lot 17 (Tech Park) Site TMKs: (1) 9-5-046:041 and (1) 9-5-046:042; Waikele Ahupuaʻa, ʻEwa District; approximately 19 acre of buildable land.
WCCC Site TMKs (1) 4-2003:004, (1) 4-2-003:024, (1) 4-2-003:025, and (1) 4-2-003:026; Kailua Ahupuaʻa, Koʻolaupoko District.
We are seeking consultation with any community members that might have knowledge of traditional cultural uses of the proposed project areas; or who are involved in any ongoing cultural practices that may be occurring on or in the general vicinity of the subject properties, which may be impacted by the proposed project. If you have and can share any such information please contact Bob Rechtman brechtman@asmaffiliates.com, or Lokelani Brandt lbrandt@asmaffiliates.com, phone (808) 969-6066, mailing address ASM Affiliates 507A E. Lanikāula Street, Hilo, HI 96720.
THE DIVISION OF STATE PARKS REQUESTS A PRICE QUOTE FORA PUBLIC NOTICE TO RUN FOR A BURIAL TREATMENT PLAN AT KUA BAY, KEKAHA KAI STATE PARK, HAWAI'I ISLAND. WE ALSO NEED AN AFFIDAVIT OF PUBLICATION.
The DLNR-Division of State Parks is preparing a Burial Treatment Plan for an unmarked burial at Kua Bay, Maniniʻōwali Section of Kekaha Kai State Park, Ahupuaʻa of Maniniʻōwali and Kūkiʻo 2, North Kona, Island of Hawaiʻi, TMK: (3) 7-2-004:019 (por.). State Parks intends to preserve the burial in place if determined appropriate by the Hawaiʻi Island Burial Council. The treatment plan sets out steps to be taken to preserve the burial in place in accordance with HRS Chapter 6E.
Family names historically associated with the general area include: Kaʻelemakule and Akahi.
All individuals having information on this unmarked burial or wishing to be consulted on the proposed Burial Treatment Plan are asked to contact DLNR-Division of State Parks archaeologist Tracy Tam Sing (Tracy.l.tamsing@ hawaii.gov), (808) 313-0858, P.O. Box 621, Honolulu, HI, 96809, and/or Regina Hilo (Regina.Hilo@ hawaii.gov), DLNR-SHPD Burial Sites Program (808) 692-8026, 40 Poʻokela St., Hilo, HI, 96720. All interested parties should respond within thirty (30) days of this notice. Those wishing to be recognized as descendants of the unmarked burial need to provide information to DLNR Division of State Parks and/or SHPD adequately demonstrating lineal descent from these specific Native Hawaiian remains, or cultural descent from ancestors once residing or buried in the same ahupuaʻa.
---
Information requested by Scientific Consultant Services, Inc. (SCS) on cultural resources; and traditional, or on-going, cultural activities on or near the proposed Pūpūkea Pipeline Cell Tower to be located on 0.237 acres situated within a leased portion of privately owned property in Pūpūkea Ahupuaʻa, Koʻolauloa Moku (District), Island of Oʻahu. Please respond within 30 days to Cathleen Dagher at (808) 597-1182.
---
Burial Notice – Waikīkī
NOTICE TO INTERESTED PARTIES IS HEREBY GIVEN that four unmarked locations containing iwi kūpuna (human skeletal remains), were identified during the course of archaeological monitoring and archaeological inventory survey at the Pacific Beach Hotel renovation project at 2490 Kalākaua Ave, Waikīkī Ahupuaʻa, Honolulu (Kona) District, Oʻahu (TMK: [1] 2-6-026:020 por. and the adjacent TMK: [1] 2-6-026:Lili'uokalani Ave Right of Way.
A State Inventory of Historic Places (SIHP) number # 50-8014-8049 has been assigned to a human burial encountered in the SW portion of the Hotel property during archaeological monitoring.
SIHP # 50-80-14-8169 Features A and B designates two human burials encountered in the Lili'uokalani Ave Right of Way. SIHP # 50-8014-5860 Feature W designates a single human burial in the south corner of the hotel property.
Following the procedures of Hawaiʻi Revised Statutes (HRS) Chapter 6E-43, and Hawaiʻi Administrative Rules (HAR) Chapter 13-300, the iwi are believed to be over 50 years old. An evaluation of ethnicity has been made by the State Historic Preservation Division (SHPD) and the burials are believed to be Native Hawaiian.
Background research indicates that these remains were discovered within Land Commission Awards LCA 1459 to Kuihewa at Mo'okahi, Waikīkī, LCA 1468 to Kaiahopuwale at Hamohamo, Waikīkī and/or LCA 8452 to Ane Keohokālole at Hamohamo, Waikīkī. Other LCAs in the vicinity include LCA 104 FL to Mataio Kekūanaō'a, LCA 5-FL to Kapilimanu, LCA 1433 to Kaluhi, and LCA 1437 to Kaohulenui.
The applicant for this project is the ʻAlohilani Hotel (formerly the Pacific Beach Hotel) and the contact person is Paul McElroy.
Proposed treatment is preservation in place. The Oʻahu Island Burial Council will be consulted along with any recognized lineal and/or cultural descendants, per the requirements of HAR Chapter 13-300-33. Appropriate treatment of the burial sites shall occur in accordance with HAR Chapter 13-300-38.
All persons having any knowledge of the identity or history of these burials are requested to immediately contact Ms. Regina Hilo at the SHPD, located at Room 555, Kakuhihewa Building, 601 Kamokila Blvd, Kapolei, HI 96706 [TEL (808) 692-8015. FAX (808) 692-8020].
All interested parties shall respond within thirty (30) days of this notice and file descendancy claim forms and/or provide information to the SHPD adequately demonstrating lineal descent from these specific burials or cultural descent from ancestors buried in the same ahupuaʻa or district.